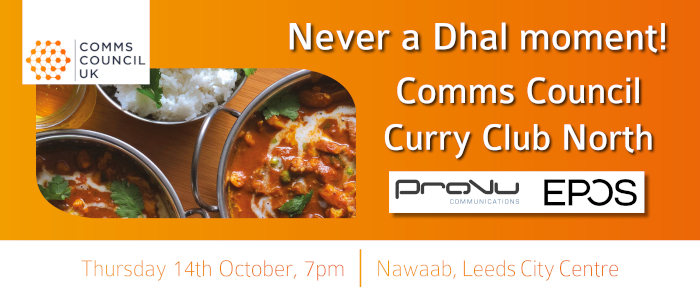 We wanted you to be the first to know that the Comms Council UK Curry Club is back!
We're teaming up with The Comms Council & EPOS to bring their renowned Curry Club to Leeds and you are invited! We will be hosting the Curry Club at Nawaab in Leeds city centre on Thursday 14th October, 7pm. Register* to join us for an evening of informal networking, when you can catch up with the latest Channel news, share ideas and strategies, and even discuss the home improvements you made during lockdown!
Whatever the case, let's get back to it. We look forward to seeing you there! All ProVu partners are welcome to attend this event, if you're not an existing member of The Comms Council, simply select the 'ProVu Guest' option on the registration page.
Register for your free place here!
*Spaces for this event are limited, places will be allocated on a first come, first served basis. One attendee per company, additional attendees can request to be added to a waiting list.