Sneak Peek – Snom M9, Next Generation DECT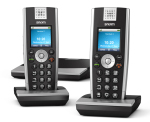 The Snom M9 VoIP DECT Phone is due to arrive at ProVu in November. Building upon the success of the Snom M3 DECT phone, the M9 provides the next generation of Snom DECT.
Unlike the Snom M3, the M9 incorportates the renowned Snom SIP stack, with proven reliability. The Snom M9 is also the only cordless phone in the market which offers possible integration with Microsoft OCS.
The M9 is perfect for the more demanding business user, with a complete set including two handsets and one base station. The M9 allows 9 handsets to register to one base and 4 concurrent VoIP calls.
Key Features
Display: 128 x 128 pixels, 65536 colors and backlit.
Battery life, 10 hours talk / 100 hours standby.
Register up to 9 handsets with one base station.
Microsoft OCS compatible.
KlarVoice wideband audio.
Caller ID with name and image.
12 key numerical keypad; 5-key navikey; 2 softkeys; 2 hook keys; 2 Sidekeys.