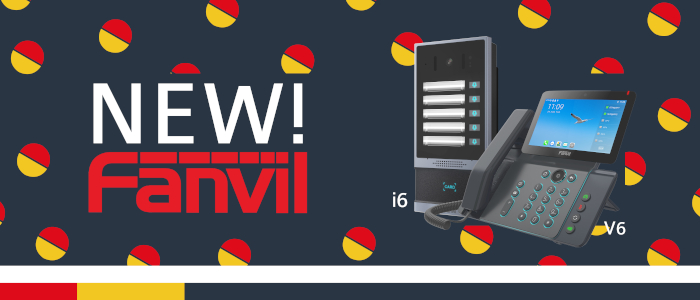 Fanvil have launched their brand-new IP handset and intercom range. The V6 series are top of the range IP desk phones which offer a sleek, modern design and high-quality performance, and the i6 range are the new robust and secure intercoms. Both certified on a range of Communication Platforms and can be white labelled installed by ProVu.
Explore what the new V6 series and i6 series can do and how they can fit into your portfolio with our upcoming webinar. What's more, all attendees are in with the chance of winning one of 4 fantastic Fanvil prizes!
The V6 Series
The V6 series is Fanvil's latest IP deskphone range. Sporting advanced audio quality and modern design, the V6 series offers a device for everyone. From entry-level devices through to a all singing, all dancing smart video phone.
The I6 Intercoms
The Fanvil I6 series intercoms all have high protection from the elements and vandalism being IP66 and IK07 rated, as well as a high quality 2-megapixel camera. Find the best intercom to suit your needs as each intercom has its own unique access control method. Either simple push to talk buttons, speed dials or even keypads.
Join our upcoming webinar!
Want to see more of the latest Fanvil devices as well as how they can best fit into your portfolio? Join our upcoming Fanvil webinar, on the 16th June, to discover this and more. What's more, attendees will be entered into a prize draw to win one of 4 Fanvil devices!

Topics covered will include:
The New V6 series of IP Deskphones
An Overview of the New i6 Series of IP Intercoms
ProVu's Exclusive Promotion
Q&A
Claim your exclusive NFR offer!
Get your exclusive NFR offer on the brand new Fanvil V6 & i6 Series. From now until the 31st August you can try out one V6 Series & i6 Series at a massively discounted price. A massive 50% off trade price.*
*NFR offer is limited to one V6 model device and one i6 model device per company.
* The V65 and i61 will be coming soon once stock is available.