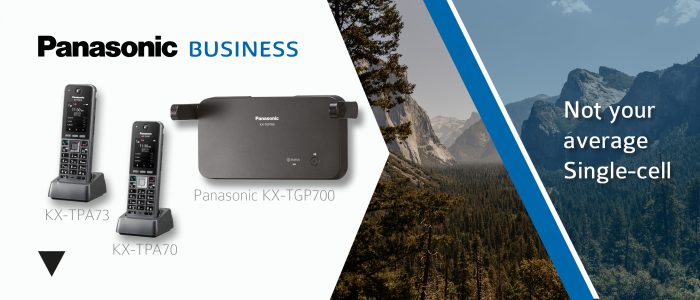 Introducing the all new KX-TGP700 Single Cell DECT system and the KX-TPA70 & TPA73 handsets from Panasonic.
Discover Panasonic's New releases
Panasonic KX-TGP700
The KX-TGP700 Single Cell DECT system truly is impressive, with up to 16 simultaneous calls and up to 16 handsets. Perfect for the expanding small business, the KX-TGP700 is ideal for those looking for something in-between the standard single-cell and larger multi-cell systems. The unbelievably smart system is also able to be bundled with a range of selected handsets enabling you to mix and match to create a unique package solution.
Panasonic KX-TPA70
The KX-TPA70 wireless DECT handset offers users and easy to use device, featuring a large colour display and easy to navigate interface with a comfortable rubber grip. The KX-TPA70 is compatible with both the KX-TGP600 & TGP700 with the flexibility of extended range indoors and out.
Panasonic KX-TPA73
The KX-TPA73 provides an advanced option to the KX-TPA70, featuring a similar large colour display and comfort grip, the KX-TPA73 comes with improved battery life as well as additional features like Built-in Bluetooth and swivel belt clip. Compatible with both the KX-TGP600 & TGP700.