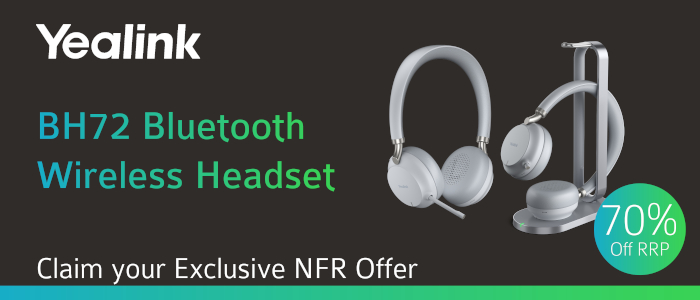 Our exclusive BH72 NFR offer is back and better than ever. Extended to the end of June, you can get a mind blowing 70% off RRP on your purchase of a Yealink BH72 Bluetooth Headset with charging stand. Why not try it out for yourself with a massive £144 off RRP!
Up to 35-hours talk time
Retractable Microphone boom arm
Bluetooth & USB connectivity
2 Simultaneous Bluetooth connections
Dual-sided busy light
Available in Grey & Black
Available in UC & Teams variant

Why not also take advantage of Yealink's Spring Super Saver? With a wide range of Yealink's latest headsets now available at a discounted rate. Until the 30th June 2022, save a massive 20% off the Yealink UH3X series & WH6X series headsets with no limits! What's more, if you purchase over 200 units of the UH3X series or over 80 units of the WH6X series you will receive a FREE* BH72 Headset with charging stand!
Get in touch with our expert sales teams on 01484 840048 or email contact@provu.co.uk to access these exclusive savings!
Qi Wireless charging station sold separately
BH72D Headset NFR offer available until the 30th June
BH72D Headset NFR offer is only available on BH72 Bluetooth Headset with Charging Stand
NFR products are subject to one per company
NFR offer pricing will be subject to change without notice