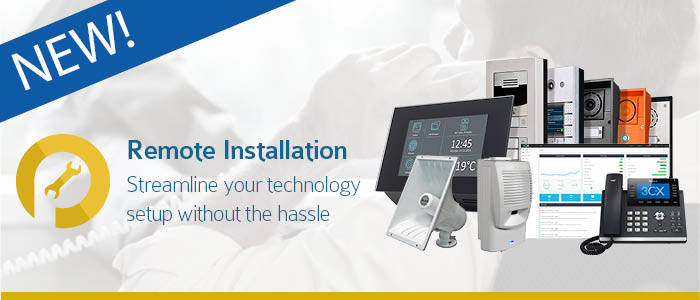 We understand that the world of technology is evolving fast, and you want to offer your customers the latest solutions quickly and efficiently. That's why we're excited to introduce you to our Remote Installation Service, exclusively for you.
Our Remote Installation Service is available for 2N, 3CX, Algo, and Sangoma. Whether you're dealing with door entry and access control, PA systems, PBX setups, or VoIP gateways we've got you covered. Our expert team is ready to assist you with seamless remote installations, ensuring your deployments are up and running in no time.
What Our Remote Installation Services Include:
Sangoma Gateway Installation:
Sangoma Gateways are renowned for their VoIP conversion capabilities. We can help you configure these gateways to match your customer's specific requirements, minimising the risk of installation issues and expanding your product offerings.
2N® Door Entry & Access Control Setup:
Tap into the growing door entry and access control market with confidence. Our team can handle the setup and configuration of 2N® door entry and access control products, so they arrive on-site ready to work without complications.
Algo IP PA Systems:
As IP PA systems face upgrades due to the ISDN switch-off, we're here to help. We'll set up and configure Algo's units to seamlessly integrate with new or existing systems, complete with pre-configured settings like ring groups and hunt group multicast.
3CX PBX Setup:
Starting from scratch with a 3CX PBX system? Let our experts guide you through the entire setup process, including SIP trunk configuration, phone setups, IVR, call queues, and more. We'll also provide valuable insights on safeguarding your systems against potential threats.
---
Tell us what you'd like to see!
We're always open to feedback! If you have an idea as to how our systems could work better for you, let us know. We're all ears. Simply email support@provu.co.uk to share your thoughts with us.
---
Simplify your installations and enhance your services. Get started with our Remote Installation Service and open up new possibilities for you and your customers. Simply call 01484 840048 or email contact@provu.co.uk to speak with a member of our team.