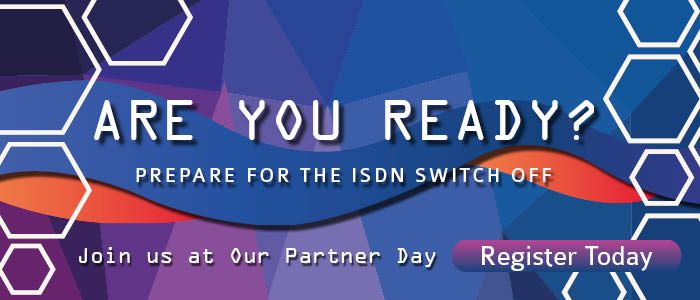 It's estimated that around 33%* of businesses are still using ISDN as their underlying communications infrastructure. Collectively, the Channel has a big job to do. With our range of products and services, we're here to ensure a smooth transition with minimal disruption for your customers, enabling you to maximise the opportunities that are available.
We've put together a switch off checklist to cover all bases when it comes to helping customers navigate the switch off.
Customer Types:
| | |
| --- | --- |
| | |
| Budget Conscious/Committed to existing systems: | Eager to Upgrade: |
| Whether there's a reluctance to upgrade, complex cabling or budget constraints, the following product lines could be the key to these customers: | The switch off poses the perfect opportunity to upgrade outdated systems. We offer a range of solutions for those looking to explore different options: |
The Cross-Sell
But that's not all! For all types of customers, there are some crucial considerations that they may not have thought about when deciding how to proceed with the switch-off:

| | | | |
| --- | --- | --- | --- |
| | Routers and APs | | Do they have the necessary hardware to support the new VoIP devices and ensure comprehensive coverage? |
| | UPS Devices | | Are their critical systems adequately protected and capable of functioning during power outages or emergencies? |
| | IP Alerting | | Have they considered the need for an IP alerting system to replace their existing one? Many overlook the connection between their phone lines and alerting systems. |
| | Access Control & Intercoms | | If they haven't updated these systems recently, they may soon find them becoming obsolete with the switch-off. |
With our range of technical services and support, these items can become a simple cross-sell – we can even arrange the installation for you. Or why not let us train your team or provide remote installation support. We've got everything you need to seize the opportunities that the switch-off will bring, ensuring a smooth transition for both you and your customers.
---
Register Today for our upcoming Partner Day

Register today for your free place at our upcoming partner day on 29th November when we will be sharing more details of how we can support you in making the switch off a success for your business.Claim your free ticket today to enjoy a jam-packed day with:
Insightful Presentations
Vendor representatives on hand to answer your questions
A showcase of our sponsor's latest devices
ProVu colleagues on hand to take you through our full range of services
Drinks reception and virtual clay pigeon shooting
All expertly crafted to prepare you for the biggest shake-up in the public phone network.
Whatever your requirements are, we've got your back. Call us on 01484 840048 or email contact@provu.co.uk to discuss how we can support you in maximising your opportunities in the lead up to the switch off and beyond.
*Data source taken from Computer Weekly.