Did you know you can now benefit from both corded and cordless communication with Yealink's new T5 Series of IP desk phones? Simply connect a DD10K DECT dongle to any of the T53W, T54W or the T57W desk phones to transform it into a multi-function device, acting as both a desk phone and DECT base station with support for up to 4 DECT handsets.
Adding increased mobility by combining both fixed line and DECT to your solutions offers a range of benefits to users in a number of applications. Whether you're looking for flexibility, or a low-cost option for your customers, Yealink's corded-cordless offering is easy to deploy, simply connect the DD10K DECT dongle to the USB port on your handset and away you go – No complex technical operations or installation of messy cables required!
Possible Use Cases
Case 1 – Retail/Small Office/Warehouse
Ideal for retail, small office and warehouses, the T5 corded-cordless solution enables a group of staff to share one phone system. With one fixed T5 desk phone, perhaps on a reception desk, additional members of staff can benefit from the use of a DECT phone to make and take calls when they are on the move.
Case 2 – Senior Executive Office
Give Senior Executives the best of both worlds, they can benefit from having a fixed desk phone on their desk and a DECT phone which can be seamlessly switched between when they need to leave their desk. Additional members of staff can then also benefit by connecting a DECT handset to the T5 desk phone come base station.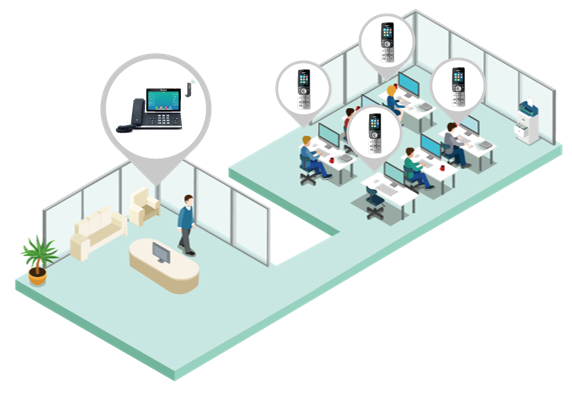 20th Anniversary Offer
Join in the celebrations with our exclusive Yealink 20th Anniversary Offer! Available until the end of December 2019, you can save 20% off the standard trade price on our exclusive bundle which consists of a T54W, DD10K DECT Dongle and W53H DECT handset. To place your order simply call 01484 840048 or email contact@provu.co.uk.
Offer product code: T54W-DD10K-W53H