ProVu are pleased to announce the launch of an online training course for Sark PBX resellers and installers.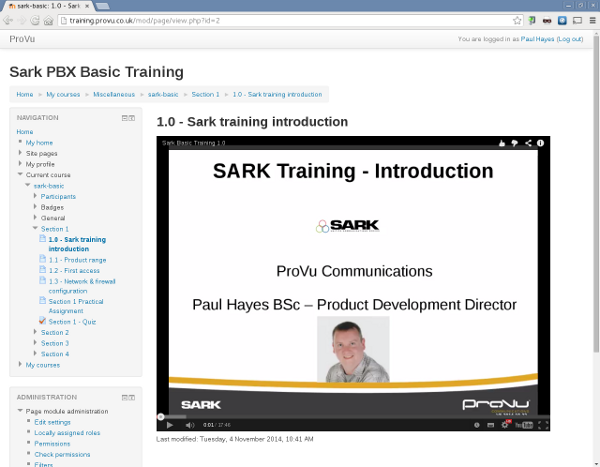 Online training is a new endeavour for us but we believe it will soon be an important part of our customer support package for the following reasons:
there's no need to resellers to take a day (or more) out of their office
it can be completed in your own time over as long a period as you want
it is always available as a reference tool, even after completing the courses
training materials can be skipped if some parts are too easy or re-read/re-watched if some parts are difficult
no need to wait for a scheduled training day – online training is available as soon as you want it
no travel expenses!
This training course consists of a series of videos followed by a practical exercise and finally a multiple-choice quiz. There are four sections structured like this in the whole course.
The training is intended for technical support staff, installers and systems integrators. If you are interested in sales training then please get in touch and we'll organise this for you.
We believe the best way of learning is by doing so this is still very much a practical training course and you will need a SARK200 PBX and some phones just like the on-site training we have held in the past.
We are likely to be running some deals along the lines of free training with purchase of a not-for-resale Sark PBX.
The online training will also be available at no extra cost to anyone who has completed one of our Sark training days in the past. Please email us to gain access.
If you are interested in our online training please email Contact or phone us on 01484 840048.
We will be releasing more online training courses in the near future so please keep an eye on our Blog and website.