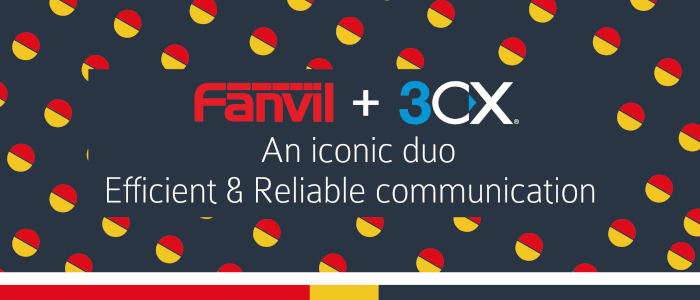 3CX & Fanvil go hand in hand, giving users a reliable, user friendly and competitively priced communications solution straight out of the box. With Fanvil's high quality and affordable devices backed up by 3CX's advanced integration and full interoperability. Users can get an all in one, ready to go solution with a simple to use interface.
Both Fanvil and 3CX are vigorously tested to ensure full interoperability. Here we've summarised our top 5 benefits of pairing Fanvil with 3CX.
1.
Quick Set Up
3CX fully supports Fanvil handsets, with all the configuration settings the devices need already active in 3CX. Admins can use 3CX's easy to use configuration tool to remotely push out changes to all devices on the network without the need to carry out site visits or manual updates.
2.
Secure
Rest easy knowing that 3CX & Fanvil take every step to protect your data & systems. With 3CX having several inbuilt anti-hacking mechanisms to stop attacks including blacklisting the attackers' IP addresses as well as creating credentials and passwords for devices & SIP accounts on deployment.
3.
Adaptable
With easy-to-understand instructions as well as clear platform controls. 3CX & Fanvil give users adaptable and customisable options to suit their business needs. Designed to ease operation and management, administrators are able to control every aspect of their telephony solutions, including setting up call queues, extension numbers, digital receptionist, ring groups and name searching functions to easily find call information for people in their address book.
4.
Control
Users are able to manage all incoming calls with the ability to set up a flexible digital receptionist as well as setting up skills based routing to ensure the right people answer the right calls. Improving response times as well as customer interactions. All thanks to the user friendly 3CX interface and compatible Fanvil products.
5.
Improved Operational Costs
3CX & Fanvil give users the best priced products along with the highest quality devices & software. As well as benefiting from product savings, end users can save with reduced telecoms bills by upgrading their old ISDN lines to SIP trunks.
Sign up Today!
3CX Basic Training
Start your 3CX journey with ProVu. Registration is now open for our next Basic Training Course. Whether you're new to 3CX or simply looking to brush up on your knowledge; this free to attend virtual course is a great place to start. Join us to learn about the basic concepts of getting 3CX up and running and develop techniques for basic troubleshooting.
*Attendees are required to sit the relevant exam in order to become a certified partner, these can be accessed via the 3CX portal. To become an intermediate partner you will first need to complete the basic training course.
**The 3CX Partner Program is based on sales figures and certification levels, to find out more about the tiering system visit: https://www.3cx.com/partners/channel-partner-program/