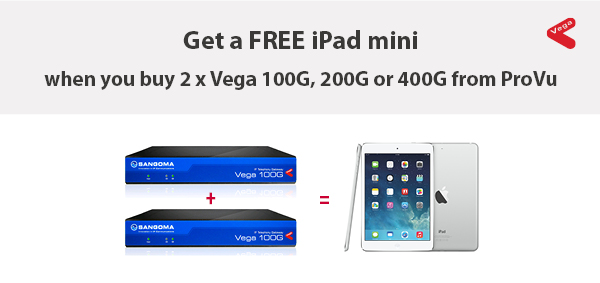 For the month of April, ProVu and Sangoma will be giving resellers the opportunity to claim a free 16GB Wi-Fi iPad mini when they place an order for two or more Vega 100Gs, 200Gs or 400Gs. These gateways are the next generation of Vega's, following on from the highly successful and well proven Vega 100, 200 & 400 gateways. Pricing on these new models has also come down significantly, making them an extremely competitive solution.
This promotion is valid for products purchased between the 1st – 30th April 2014 and is valid whilst stocks last. Any two gateways mixed and matched between the three types will be eligible for the free iPad mini offer. iPad Mini's will be be despatched during the month of May.
For more information and T&Cs please contact ProVu's sales team on 01484 840048 or send an email to contact@provu.co.uk.
The ProVu Team