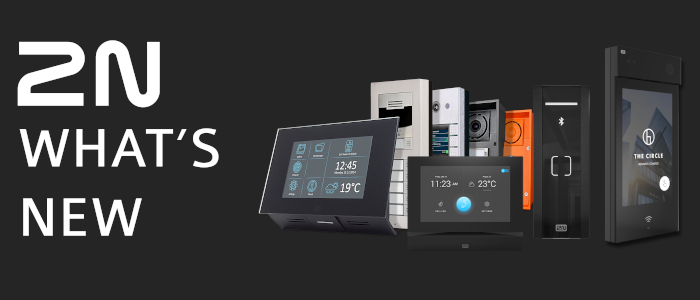 We understand that when it comes to security, door entry is just as crucial on the inside as it is on the outside. Whether it's about safeguarding your premises from external threats or ensuring privacy and safety within your space, every aspect of door entry matters.
That's why we are thrilled to introduce the latest updates from 2N, designed to elevate security to new heights.
Apartment Security – 2N Indoor View DoorViewer
| | |
| --- | --- |
| Introducing the DoorViewer feature. With this new addition, 2N's Indoor View stations now have even more integration power. The DoorViewer feature allows seamless integration with 3rd party cameras to act as spyholes. When someone rings the doorbell at your apartment door, you'll get a live video preview of the person standing outside, right on your 2N Indoor View. | |
Seamlessly Switch Between Third-Party Cameras:
2N understands the importance of a complete home overview. That's why, with the new 2N OS 2.40 update, they've made it even easier for you to monitor your space during a call. You can now connect external cameras to your IP intercom without the need for a physical connection. Simply have them on the same network as your 2N® Indoor View, and they will be automatically paired through the web interface. This means you can effortlessly switch between associated cameras while on a call or even during a live preview.
Explore all of the 2N OS 2.40 Updates
---
What else is new for the 2N OS Platform?
Your security is a top priority, and the LPR Multifactor authentication mode for license plate reading offers that and more. Now you can combine license plate reading with other access technology, such as Bluetooth access, for a highly secure dual authentication process. This means no physical interaction with any device while enjoying seamless and foolproof entry into your premises.
The 2N OS 2.40 update doesn't stop there. 2N has also added support for the H.265 video compression standard for the 2N® IP Style. This means faster streaming, lower bandwidth, and reduced storage requirements for RTSP/ONVIF.
Additionally, the all-new 2N® PICard solution for RFID cards offers unparalleled encryption based on secure MIFARE® DESFire® technology. It's the epitome of multi-level security and flexibility for integrators and facility managers. Check the web interface after updating to 2N OS 2.40 to see if your readers are compatible with this cutting-edge solution.
Explore all of the 2N OS 2.40 Updates
---
Let us help with White Label Installation
Have a difficult installation or don't have the technical skills available? We've got your back! Did you know we also offer a white-label installation service? Speak to our team today about maximising your opportunities through these services.
Elevate your security with DoorViewer and enjoy a seamless, smarter, and safer living experience. We offer a range of services to help support you. Get in touch today to discuss how we can help you to support your partner's in upgrading their systems with minimal effort.