Here is a short guide on configuring direct IP calling between a 2N Helios IP intercom, and a Gigaset N510IP. The same process will work with a Gigaset N300IP.
Both units need to be plugged in, and connected to the same network. You need to connect to the web interface of each device to configure them.
Step 1: Configure the Intercom
Go to Services > Phone and edit the Domain setting. You need to set this to the IP of the intercom itself, in our example this is 192.168.2.64

Then you need to add an entry to the directory, to call the N510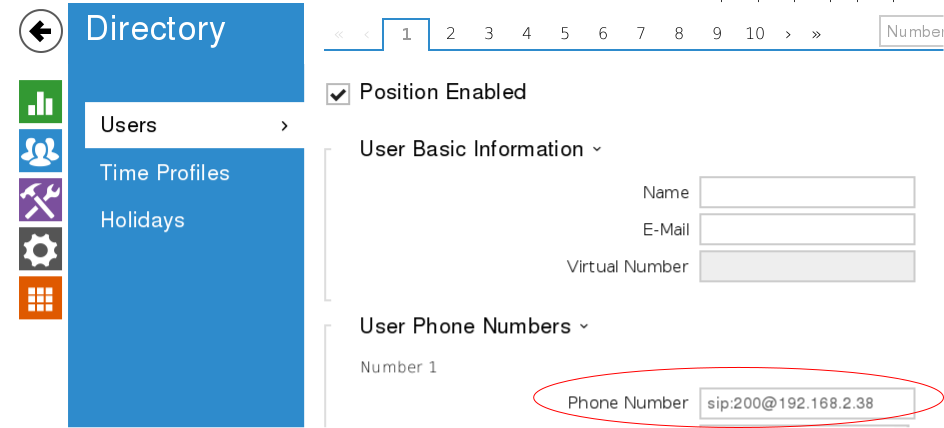 Here I have used 200 but you can choose any number, you will need to use this number later when configuring the N510. The IP address part must be the IP address of the N510 unit, in our example this is 192.168.2.38
Step 2: Configure the N510
Go to Settings > Telephony > Connections and Edit one of the Connections.
Here you add the number that you chose earlier, and the IP address of the 2N intercom in the 3 boxes shown – Domain, Proxy Server and Registration Server. You do not need to enter a password as the N510 does not actually register to the 2N intercom.
Settings > Telephony > Advanced VoIP settings.

Here you set Use random ports for SIP to 'No', and set the SIP port to 5060.
Finally, you need to go to Settings > Telephony > Number Assignment and make sure that your handsets are set to accept incoming calls from the account/connection that you just created.
You should now be able to call to the Gigaset by pressing the button on the front of your intercom. If you are still having problems, please contact our technical support team.