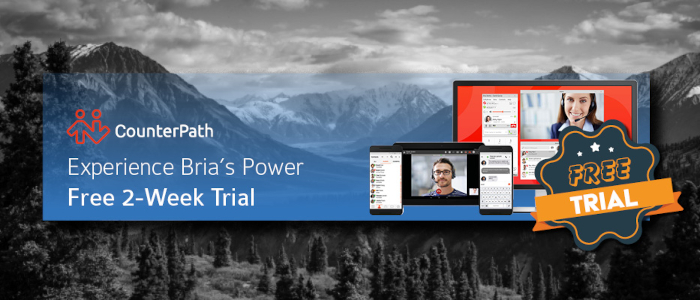 Are you ready to experience a revolution in communication? We are excited to offer you an exclusive opportunity to explore CounterPath Bria, a game-changing unified communication solution, absolutely FREE with our trial licences!
Why Choose CounterPath Bria?
Seamless Communication: CounterPath Bria offers a unified communication experience like no other. With voice, presence, and messaging all rolled into one, it simplifies your interactions.
Flexible and Reliable: Whether users are at the office, working from home, or on the move, Bria ensures users stay connected, ensuring a team's productivity remains at its peak.
User-Friendly Interface: Bria's intuitive interface ensures a smooth experience for all users, from tech-savvy professionals, to technophobes, Bria offers a simple to use interface which is easy to install and use.
---
What Can You Expect from Our Trial Licences?
Our FREE trial license grants you full access to CounterPath Bria for two weeks. This is your chance to explore its extensive feature set, including voice and messaging, and see how it can transform the way you communicate.

Unsure where to start or want a guided tour? No problem! Our team are here to assist. We offer personalised demos to help you get acquainted with Counterpath Bria and its capabilities.
Ready to Elevate Your Communication?
Request Your Trial: Simply get in touch with our dedicated team, and we'll set you up with your FREE trial licences.
Personalised Demos: If you'd like a guided tour, we'll be more than happy to arrange a demo at your convenience.
---
Don't miss out on this fantastic opportunity to experience the future of unified communication. Elevate your communication, improve collaboration, and boost productivity with CounterPath Bria.
Reach out to us today at 01848 840048 or email contact@provu.co.uk to request your trial or schedule a demo. We're here to help you every step of the way.