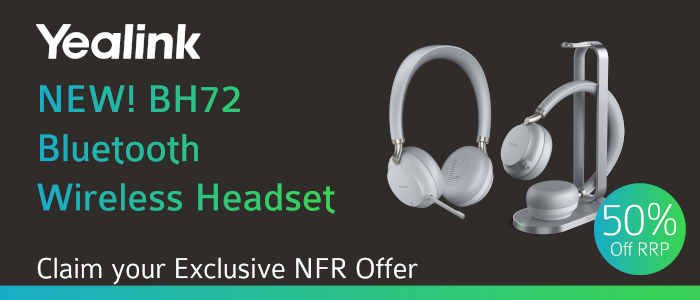 Have you heard about Yealink's brand new Bluetooth headset? The BH72 offers the very best in HD audio quality and user experience. Sleek and modern in design with a built-in retractable microphone boom arm, the BH72 is designed for all day use, from the early morning commute, to taking important calls in the office, to beating your personal best at the gym.
With comfortable ear padding and a long battery life before needing to be recharged at a wireless Qi Charging station*, the BH72D is your ideal all day companion.
Up to 35-hours talk time
Retractable Microphone boom arm
Bluetooth & USB connectivity
2 Simultaneous Bluetooth connections
Dual-sided busy light
Did you also know we are offering an exclusive NFR offer?
There is no better time to try out the BH72 with our exclusive NFR offer in partnership with Yealink. Until the 30th April, get a massive 50% off RRP on your purchase of a Yealink BH72 Bluetooth Headset! That is a massive £103 discount!
Get in touch with our expert sales teams on 01484 840048 or email contact@provu.co.uk to access these exclusive savings!
Qi Wireless charging station sold separately
BH72D Headset NFR offer available until the 30th April
NFR products are subject to one per company
NFR offer pricing will be subject to change without notice