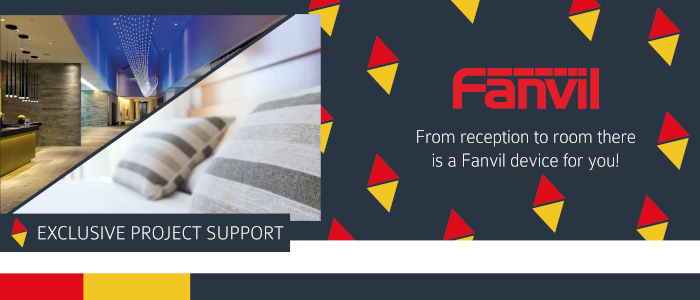 From now until the 31st January 2022 get exclusive project support across the Fanvil range. With the recovery of the hotel industry after the impact of the global lockdowns, now is the perfect time to assist the reset of the industry. Fanvil is offering ProVu customers substantial discounts across the Fanvil range when used to complete projects that involve the i and X Series devices.
Project Support Program
Purchase your selection of Fanvil Hospitality devices which must include an i series or X series device(s) to be eligible for an exclusive project support discount.
| | | |
| --- | --- | --- |
| Project Size | Discount available | Requirement |
| 50-99PCS | 3% | At least 2PCS X Series or i Series |
| 100-199PCS | 5% | At least 5PCS X Series or i Series |
| 200-499PCS | 8% | At least 5PCS X Series or i Series |
| 500+PCS | 10% | At least 10PCS X Series or i Series |
Discover Fanvil's Hospitality Range
To place your order, simply contact one of our Fanvil experts today on 01484 840048 or email contact@provu.co.uk to find out more!
Struggling to find stock? With our priority supply chain, items that are not available in quantities you need are readily sourced with a 1-2 day lead time. Speak to our team today to discuss any of your needs.
*Offer valid until 31/01/2022, eligible purchases will be approved by Fanvil.