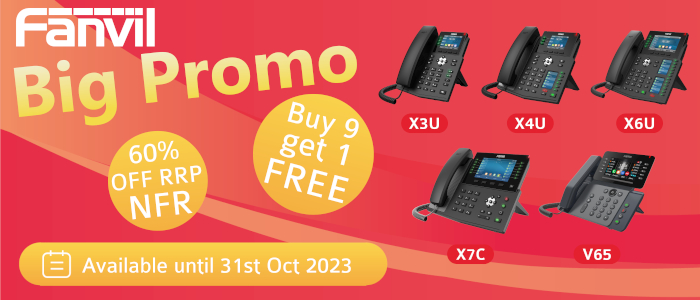 Get ready for an exciting opportunity that's too good to miss! From now until 31st October, we're giving you the opportunity to receive a free Fanvil device! Ideal for any projects you may be working on, this amazing offer enables you to secure a free device for every 9 handsets you purchase. Enjoy cutting-edge devices and unbeatable value across the X3U, X4U, X6U, X7C, and V65 models.
| | | |
| --- | --- | --- |
| | | |
| X3U-9plus1 | X4U-9plus1 | X6U-9plus1 |
| | |
| --- | --- |
| | |
| X7C-9plus1 | V65-9plus1 |
Explore the diverse range of featured models, each equipped with top-of-the-line features to meet your unique communication needs. From the efficiency of the X3U, to the power-packed performance of the V65, you have a multitude of choices at your fingertips.
But hurry, this promotion is valid until October 31st. Don't let this opportunity slip through your fingers.
---

Take advantage of the new Fanvil NFR offer
Experience incredible savings with our exclusive NFR offer! Try before you take advantage of the big promotion and heighten your communication capabilities with a dynamic trio – the V65, V67, and i62 – all available at an astounding 60% off the RRP NFR offer. This limited-time offer allows you to harness the power of these advanced devices for a fraction of the cost. Don't miss out on this incredible deal! Act fast, as this offer is valid until December 31st 2023.
To learn more or to place an order, reach out to our dedicated sales team at 01484 840048 or contact@provu.co.uk or place your orders directly on ProSys.
*There are no limitations on the number of free devices available. Order must be made up of the same devices i.e. if you purchase 9 X3U's, you will receive an additional X3U free of charge.
**NFR Offer – Only one of each device is available to be purchased per company.