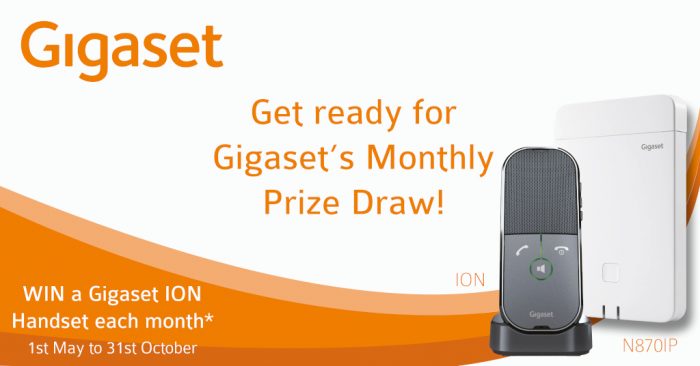 From the 1st May until the 31st October, purchase one or more Gigaset N870 Multi cell DECT base station and be entered into Gigaset's monthly prize draw to win a Gigaset ION!
Gigaset ION
A UC handset built for flexible use. Get access to all of your communication needs wherever you are with the Gigaset ION. Featuring a DECT base station and personal speaker phone that has been developed to meet today's UC user demands. Keep connected at home, in the office or on the go, by pairing the ION with Teams, Zoom or one of many other supported softphones to enjoy mobility without bounds. Switch between personal handset and handsfree speaker phone modes automatically, so no matter where you are or where you need to be, you have the flexibility to do what you do best.
Get more from the N870IP
Whatever the size of your deployment, the Gigaset N870 has you covered. Connect up to 250 handsets for larger deployments with Gigaset's new and improved, ruggedised R700H or even the updated SL800H.
Benefits of the N870IP

Combining DECT base stations and a DECT manager in one, the N870 removes the need to purchase a separate DECT manager*, making it a more economical solution.
Each multicell system supports up to 250 handsets, 60 base stations and 60 simultaneous calls.
Using Gigaset's Integrator VM, users can combine up to 100 systems which is the equivalent of 6,000 base stations creating a solution which supports up to 20,000 handsets and 6,000 simultaneous calls!
With compatibility across all recent Gigaset pro DECT handsets, users can select any combination of S700H, R700H, SL800H or Maxwell C handsets.
Why not check out our range of supported handsets & DECT deskphone
The Small Print:
Five prize draw winners per month

1st May through to the 31st October 2022

Entries limited to one per company per month

Prizes will be drawn at the beginning of each month

Winning Resellers will be contacted on the draw date and where possible a Gigaset representative will deliver the prize in person