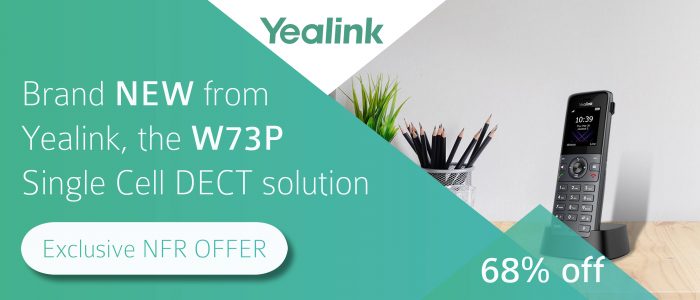 Discover the next generation in DECT solutions with the Yealink W73P! An advanced, modern single cell DECT solution made up of the W73H Handset and the W73B Base station. Ideal for small and medium sized businesses that are looking to increase their communication flexibility and mobility. The newly designed W73H handsets are built to be comfortable in hand and small enough to be carried on person with a handy belt clip. Making the W73P bundle perfect for the on the go worker with an impressive 50m indoors and up to 300m outdoors, including a integrated alarm button and extended battery life.
Key Features include:

Supports up to 10 DECT cordless handsets
Supports up to 20 simultaneous calls (2 calls per handset)
Compatible with the W73H, W76H, W59R, CP935W, DDPhone (T54W + DD10K) additional handsets
Increase range with up to 6 DECT repeaters per base station
Up to 35-hour talk time
Handset range: 50 metres indoor, 300 metres outdoor
NFR Offer
What's more you can now try out the W73P for yourself with our exclusive NFR discount!* Order today and try out Yealink's latest DECT solution.
Get in touch with our expert sales teams to find out how to level up your Yealink Portfolio today!
*NFR offer limited to one per company, available until the end of September 2021