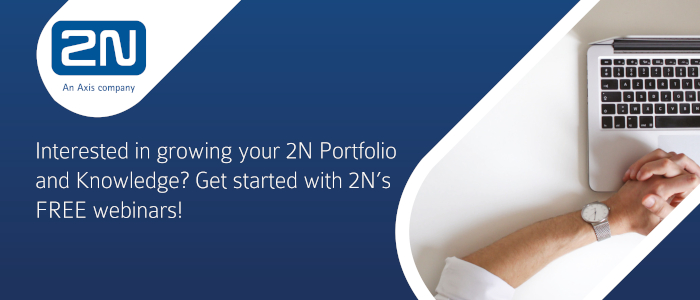 Do you want to increase your knowledge and understanding of 2N's incredible product range, including the latest 2N IP Style and grow your portfolio? Get started with 2N's FREE webinars.
2N On Air: With our Partners shoulder to shoulder
Thursday 20th May, 2pm GMT

2N On Air is back and better than ever! The second On Air event this year for 2N will look at typical office integration scenarios. Helping you to build professional and functional solutions for your clients.
What's more 2N have teamed with some leading technology companies, including Cisco to bring you a range of solutions that can integrate well together. As an added bonus, 2N will be unvailing their latest intercom, the 2N IP Style. Surely a not-to-miss event!
Technical & Sales Focused Webinars

Grow your understanding and knowledge of 2N's incredible solutions at your own pace with 2N's range of sales & technical webinars in the 2N academy! With a variety of 15 – minute webinars scheduled over the coming weeks, these short courses are a great way to up skill your team on such as Remote configuration, Lift Control and 2N Access Commander Integration.