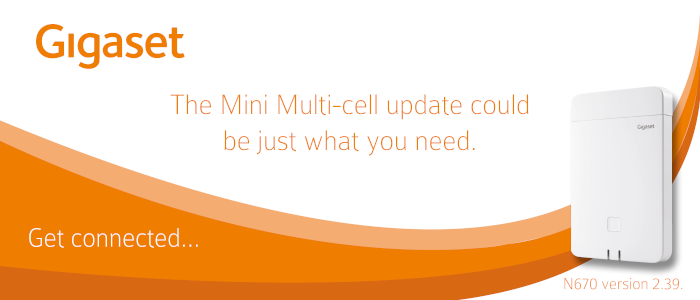 Did you know about the latest Gigaset N670 software upgrade*? Yes? Well did you also know what the upgrade means for the future of multi-cell solutions? Gigaset's latest software upgrade allows the N670 base station to act in a similar way to a repeater, improving the range of Gigaset handsets. However, unlike a repeater, N670IP will work over IP, making it easier to install and configure without needing a power socket. All you need is a PoE enabled network cable and away you go!
Meet the Mini Multi-cell solution! A perfect solution for those that need to cover a larger area but don't have the need for a full scale multi-cell solution.
There are now more benefits for using Gigaset's N670:
| | |
| --- | --- |
| | Increase the reach of handsets (each base station has a range of up to 50m indoors and 300m outdoors) |
| | Supports up to 20 handsets |
| | Repeaters would normally support 2 simultaneous calls, whereas the N670IP in a mini multicell setup will provide up to 8 simultaneous calls. |
| | Same price range as a repeater |
| | Easy installation with simple visualisation via web interface |
*Software version referred to is version 2.39.