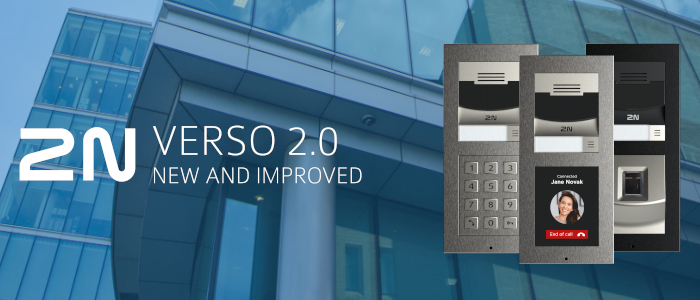 We are excited to share that the new 2N Verso 2.0 Intercom is now available. This cutting-edge intercom expands on its predecessor the 2N Verso, offering you the same flexibility with enhanced features. With an advanced Full-HD definition camera and an ARTPEC-7 processor which provides improved image quality and processing along with better security and functionalities. The Verso 2.0 offers up to 5 different access methods with support for QR code reading, PIN, RFID, Fingerprint and mobile access, powered by WaveKey.
The 2N Verso 2.0 still offers the extensive range of customisation options you have come to expect from the Verso units. Not only does it offer state-of-the-art features thanks to its flexible modular system, it is also highly secure. Housed in a durable anodised aluminium casing, you can ensure the safety and privacy of your home or office.
---
2N IP Verso 2.0
Full High resolution wide angle camera
Flexible modular based system
Features an ARTPEC-7 processor offering advanced feature support
Supports up to 5 different access methods including QR code reading
Scalable up to 10,000 buttons with touch screen display module
Black or Stainless Steel finish
---
Let us help with White Label Installation
Have a difficult installation or don't have the technical skills available? We've got your back! Did you know we also offer a white-label installation service? Speak to our team today about maximising your opportunities through these services.