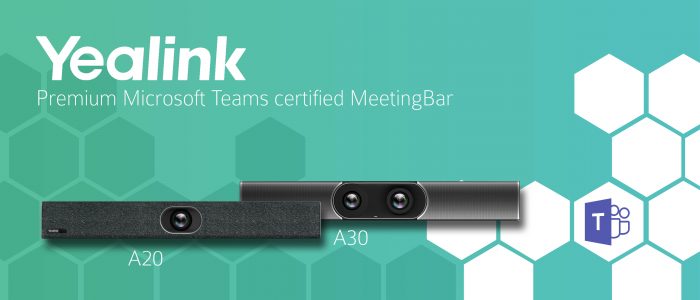 Thought about your conferencing room lately? Why not expand your Microsoft Teams connectivity with Yealink's premium A20 and A30 MeetingBar. Featuring advanced AI Technology to auto frame attendees smoothly for the perfect view even in small spaces. As well as speaker tracking that gives a real time close-up on the speaker for a vivid face to face meeting experience and keeping attendees engaged.
Both the A20 & A30 come with built-in microphone array as well as high quality speakers with echo cancellation and Yealink patented Noise Proof technology. Allowing you to benefit from an audio system that clearly picks up speakers without background noise from a busy work environment.
Yealink A20

Yealink A30

20 Mega pixel camera
133 degree field of view
8x e-PTZ camera
Electric privacy shutter
Built-in dual band Wi-Fi
Built-in Blue tooth
Ideal for meeting rooms of up to 6

1 x 8 Mega pixel camera

120 degree field of view
4x e-PTZ camera

1 x 8 Mega pixel camera

90 degree field of view
10x Hybrid Zoom

Directional voice pickup
Support for extension mic
Built-in dual band Wi-Fi
Built-in Bluetooth
Ideal for meeting rooms of 8 to 12
You can also order an optional control touch panel, the CTP18. Ideal for those slightly larger meeting rooms that require complete control at your fingertips. By giving you access to quick use teams buttons to connect to calls, set up calendar dates, content sharing as well as adjust camera and audio settings. Leaving your conference table clutter free.
To place your order please call our sales team on 01484 840048 or email contact@provu.co.uk.