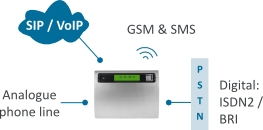 Wouldn't it be nice if you turned up to install an IP PBX and all you had to do was connect the lines and phones and everything just worked, with inbound calls automatically routed to the connected phones. With the combination of a SARK phone system plus snom and Yealink IP phones, it can be this simple.
Until now the reality has been quite different, the constant headache for telecoms engineers in setting up an on-site IP PBX has been in the configuring of extensions when they do not have control of the network. The largest time consuming element of any installation is the provisioning of the IP phones with the correct settings. Often getting this provisioning information to the phones has relied on special settings on a DHCP server . The problem with this is, that in most cases the telecoms installer does not have access to the DHCP server and even if they do, not all routers necessarily support this capability. The only option at this point is to manually set up each phone which is extremely time consuming and more importantly adds considerable cost to an installation.
The SARK development team led by Jeff Stokoe have harnessed a technology that has been embedded into snom and Yealink phones called SIP Multicast. During boot-up, the phones send out a SIP packet to a special IP address reserved for SIP Multicast. The SARK PBX listens to this address at all times and will respond, telling the phone where to get it's configuration from. This achieves the same job as using the DHCP server but all the functionality is contained within the phone and phone system themselves. Therefore negating the requirement for the telecoms engineer to control the network. Furthermore, SARK will automatically generate extensions on the fly when it receives the Multicast message. The phone is then passed all it's configuration information using an intelligent provisioning engine built into SARK. At this point the engineer has only had to physically connect and power up the SARK system and phones.
Paul Hayes, Product Development Director at ProVu Communications (the sole distributor for the SARK range of phone systems and distributor for Yealink UK) said: "The SARK system is designed to be accessed remotely, yet securely. In my mind this is essential for anyone wanting to install phone systems in any significant numbers. The zero-touch configuration system and remote access mechanisms in SARK allow engineers to manage systems without on-site visits, which significantly reduces both the installation and maintenance overhead for our resellers."
ProVu Communications are the sole distributor for the SARK range of phone systems and the premier distributor for snom and Yealink phones.