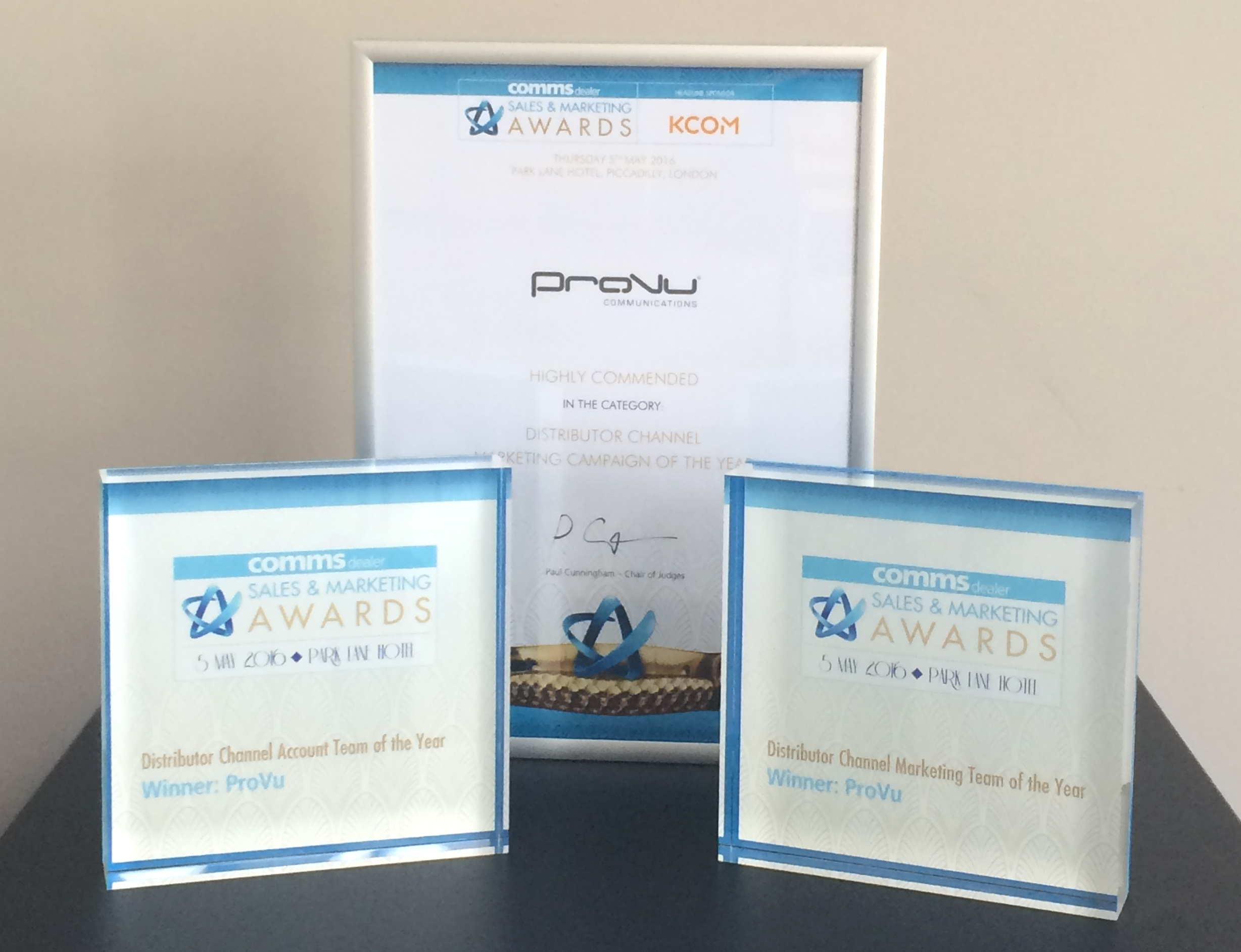 Last year our Sales Director, Ian Godfrey and I attended the Comms Dealer Sales and Marketing Awards for the first time. ProVu had been nominated for the Distributor Channel Account team of the Year, unfortunately we did not win but I had a moment of clarity whilst there; if we entered more award categories we would probably stand a better chance of winning an award. Not rocket science, I know but sometimes the obvious isn't immediately clear.
Roll forward a year and after much hard work and many re-writes and alterations we had strong entries in three different categories. April arrived and we found out we had been shortlisted in all three categories, Distributor Channel Account Team of the Year, Distributor Channel Marketing Team of the Year and Distributor Channel Marketing Campaign of the Year. So far so good, my theory was working. Never being over confident about these things we then made lots of PR noise about our treble nomination as I told the team it will be "old news" when someone else has won them.
Did I really think we stood a chance, to be honest no. ProVu is a very successful company that is growing at a pace, but we are still a minnow on the distribution landscape. The figures we talk about in our award submissions I am certain could be delivered by one department in a quarter for the larger distributors. On the plus side we are recognised as experts in our field with our fairly unique product mix and value added services. Was that going to be enough, we would have to wait and see.
So the big day came, Marketing Manager, Kate Stolworthy and Sales Account Manager, Anna Marzec-Smith and I travelled down to London to attend the awards. The awards took place at the Park Lane Hotel where we shared a table with our friends from Voiceflex and had a very pleasant lunch. The awards were hosted by sports presenter, Dan Walker of Football Focus Fame and latterly Breakfast TV. I have to say, he was good, he kept what was becoming a loud crowd in order with some great banter and put downs. He informed us that the hotel's gents toilets had been part of the film set for the Bond film Casino Royale and then regaled us with a story of immense courage of a Japanese Gymnast called Shun Fujimoto (https://en.wikipedia.org/wiki/Shun_Fujimoto).
The Distributor category awards were the first to be announced. Much to my absolute surprise we won the first award for Channel Account Team of the Year. We went up on stage, grabbed the award, had our photo taken and I was a happy man – it had all been worthwhile. On the way back to my seat I came across various customers and vendors who were passing on their congratulations and were shaking my hand. I had literally just sat down when ProVu were called up again as winners of the Marketing Team of the Year award and we did the whole thing again. I was asked to say a few words this time on ProVu's success, I waffled on for about 20 seconds and then the microphone was firmly, but politely taken from me. I cannot really remember what I said except that it was all down to the superb team at ProVu. By the time they announced the third category Dan teased us with the name of the winner beginning with a 'P', we didn't manage the hat-trick, but we were named 'Highly Commended' in the Marketing Campaign of the Year Award, which was won by Pragma Distribution – congratulations to them! The remainder of the day passed in a flash of fun and laughter, we took a tactical call to extend on the celebrations and not return home that evening, returning to the office the next day and I am delighted to say still with our awards in hand.
So why did we win, there is clearly something to my law of averages theory, but I think ultimately you need good facts and figures that demonstrate a successful story. The successful story comes from having great staff that are dedicated to the company and make that success happen. It is also made a great deal easier if you have good vendors that support you and a great customer base who help you along the way. We are fortunate at ProVu to have all three of these elements.
So to everyone involved in ProVu's success be it the great team at ProVu, our vendors or our customers I would like to express my sincerest thanks.
Darren