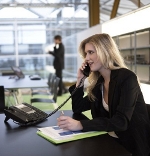 We are delighted to announce today that ProVu have been appointed as Distributor for the Aastra range of SIP phones and accessories.
Aastra is recognised globally as a leading supplier of enterprise telephony equipment and their SIP handset range is a natural fit that enhances the ProVu product portfolio. Their excellent SIP handset range is both stylish, functional and competitively priced.
With ProVu entering a phase of rapid growth and seeing demand for its automated fulfilment and provisioning services increase, we feel it is an essential part of our strategy to be able to offer our customers these services across an even wider range of quality products.
Stock and Pricing
All the Aastra models are in stock and available for next day delivery, you can view our trade pricing at our on-line trade price list below.
(If you do not have a log in for the price list just email us and let us know.)
Ordering
As with all our products Aastra phones can be ordered by, phone or email.
Or for all our customers using our ProSys on-line ordering the Aastra phones are now listed and can be ordered via the ProSys on-line ordering system.
Provisioning
Our automated Provisioning platform has now been developed to accommodate the Aastra phones.
So for all our service provider customers and PBX installers wanting to deploy phones in volume or on a regular basis you can now order Aastra phones and have them provision automatically out of the box.
For more Information on the range of Aastra phones please visit:

http://www.provu.co.uk/aastra.html