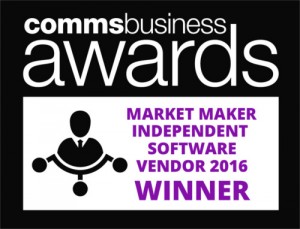 In May, we were named finalists in two categories in the 2016 Comms Business Awards, our shortlisted categories included: Market Maker Distribution Award and the Market Maker Independent Software Vendor award. Last week both our Managing Director, Darren Garland and Sales Director, Ian Godfrey travelled down to London to attend the awards and we are delighted to have been named winners for the Independent Software Vendor award!
Our independent software, ProSys was launched in 2006 and continues to be developed in-house by our development team. For those who are not familiar with ProSys, it is our online portal which allows resellers and service providers to access a range of tools designed to ease the fulfilment of Customer Premise Equipment, more information can be found on our ProSys information page.
As part of our entry process we were asked to submit a case study which demonstrates how ProSys has revolutionised our customer's processes. For this we chose to focus on how we adapted our systems to work better for a leading Service Provider, here's a glimpse of some of the work our development team carried out:
Among our range of value added services, we offer zero touch automatic provisioning for phones, and an API that enables resellers and service providers to integrate their services with ours. Through our API, customer orders can be placed on their websites and fed directly through to our despatch queueing system, however sometimes we need to unwrap our services a little to make them work for our partners.
The service provider in question had their own phone provisioning systems and their own ordering systems which they wanted to feed directly through to us in order to automate their order process. In response to this we created a completely bespoke API for them.
Through our developments, ProVu now sit in the middle with this service provider's orders; we receive the order from them, translate part codes to their own part codes, ship the items and then they pull the order status information back from us to display on their system and populate their own provisioning server.
This particular service provider had a unique set of requirements which were not available elsewhere in the market. As our systems are developed in-house, we were able to solve their problems and they now have a solution which is entirely within their control, but has all the benefits of the automated ProSys workflow.
Our team work exceptionally hard to develop our systems to ease the fulfilment of CPE and it is a great honour to win such a prestigious award. We are delighted to have been recognised among other leaders in the Channel and are very happy to receive such recognition.