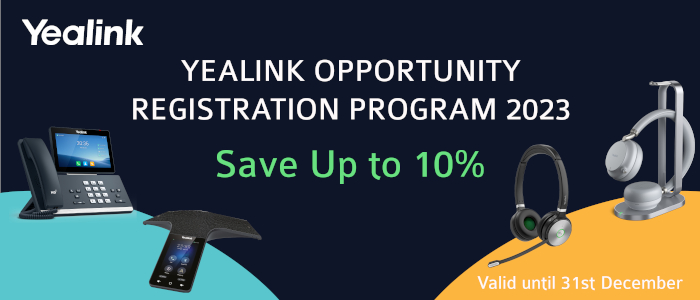 Exciting News! You can now save up to 10% on your Yealink orders with their generous Project Registration Programme! Valid until the 31st December 2023, get up to 10% off selected Yealink SIP phones and headsets when you register your projects through ProVu.
Don't know what the Registration program is?
You simply register your projects with Yealink, any project with 50 or more devices will qualify for a discount. That's it! In return you will receive a discount of up to 10% on Yealink SIP phones and headsets. The total discount allocated to your order will depend on the number of devices ordered, and the project application. You can then get up to 3 additional discounts if your project meets specific requirements, see below for more details..
Yealink UK&I Opportunity Registration Program 2023

Units

Standard Support

Extra Discount 1

Extra Discount 2

Extra Discount 3

Total Discount

50-199

1%

2% for Selected Models Supports*

2% for Public Sector Projects

2% for Headsets Unit greater or equal to 30

Up to 7%

200-499

2%

Up to 8%

500-999

3%

Up to 9%

1000+

4%

Up to 10%
Explore Some Great Devices in the Yealink Range
Call our sales team on 01484 840048 or email contact@provu.co.uk to register your project and access Yealink pricing support.
Discount promotion is available untill the 31st December 2023
Selected models:

Phone: T58W/ T58W PRO/ T58W Pro with Camera/ T57W/ T54W/ T53W/ W90/ W80
Headsets: VH7X/ WH6X
Conference Phone: CP925/ CP935W/ CP935W-Base/ CP965/ CP965-Wireless Mic

Program is only valid for the UK and Ireland Channel