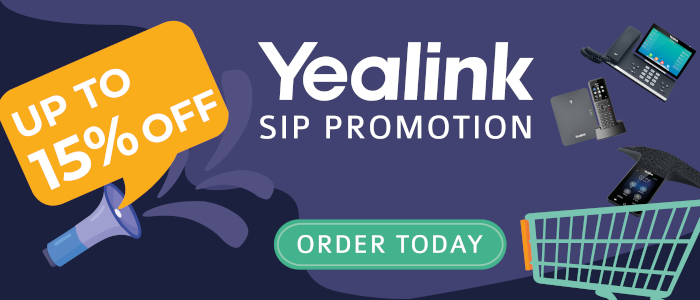 Don't miss out on Yealink's unmissable SIP promotion, offering you the chance to unlock remarkable savings of up to 15%* on an extensive range of cutting-edge Yealink SIP devices. Act now and seize this opportunity to elevate your customers' communication experience before the offer expires on December 31st 2023.
With over 20 devices available at incredible prices with a discount between 5% and 15%, it's an offer too good to resist!
T5 Series of Business Phones
Redefine your next-gen personal collaboration experience with the advanced T5 series. Experience unparalleled performance and functionality designed to enhance your business communications.
---
T4 Series of IP Phones
Step into the world of modern voice communications with the T4 series. These devices combine sophistication with user-friendly features, ensuring seamless communication.
---
T3 Series of IP Phones
Explore the classic entry-level business IP phone with the T3 series. Enjoy reliable communication solutions tailored to meet your essential business needs.
---
DECT Phone Systems
Embrace wireless freedom with the Yealink DECT phone systems. Experience enhanced mobility without compromising on call quality or connectivity.
---
DECT Handsets
Expand your DECT phone systems effortlessly with additional handsets. Stay connected and productive throughout your workspace with ease.
---
Cordless DECT IP Multi-Cell Systems
Take your DECT system to new heights with Cordless DECT IP multicell systems. Enjoy seamless roaming and communication across a wider range.
---
Conference Phones
Experience state-of-the-art audio conferencing with Yealink's conference phones. Elevate your meetings with top-notch audio quality and collaboration features.
---
To take advantage of this promotion, get in touch with our dedicated team at 01484 840048 or contact@provu.co.uk. Alternatively, you can check pricing and place your order on ProSys. Our expert team are ready to assist you in selecting the perfect Yealink solutions tailored to your customers' unique requirements.
No limit to number of devices that can be purchased, discounted prices available between 5% and 15%
Promotion ends 31st December