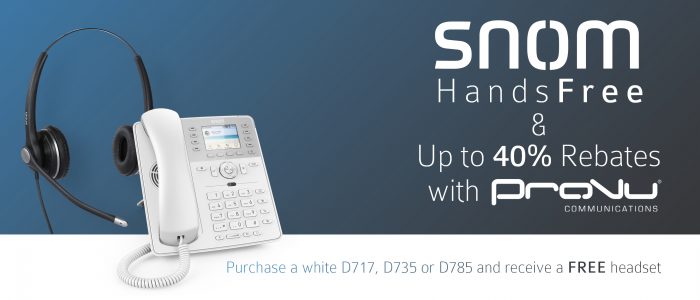 Great News, Snom's incredible partner program rebates are continuing until the 31st of December. This means you can still enjoy rebates of up to 40% across some of Snom's most popular devices.
What's more, we have a brand new promotion for you to take advantage of, find out about this amazing offer below!
Not a Registered Partner?
| | |
| --- | --- |
| There couldn't be a better time to get on board with Snom! Register for free today to see if you qualify for rebates on your orders and receive a complimentary Snom phone of your choice. | |
Hands Free
Introducing the all new 'Hands Free' promotion. Purchase a white Snom D717, D735 or a D785 and receive your choice of a free A100M or A100D headset!* Running until the 31st December and along side the Snom partner rebates, now is the perfect time to partner with Snom.
Want to know more?
Contact the ProVu sales team on 01484 840048 or email contact@provu.co.uk to find out more or to be put in direct contact with the Snom UK team.
*From 1st October 2020, white Snom phones are no longer available as part of Snom's additional partner program rebate offer.
**Purchase a D717W, D735W or D785W and choose between a A100M or A100D headset. Purchase of a D785W also comes with a USB adapter in addition to your choice of headset.