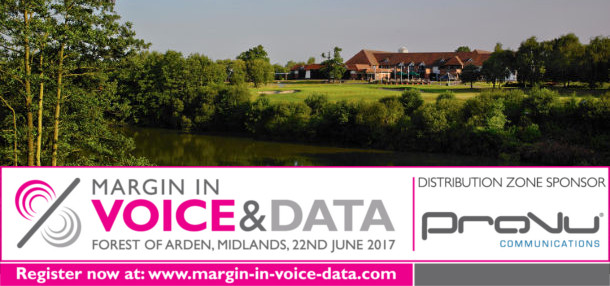 We're proud to be sponsoring this year's Margin in Voice and Data conference. Taking place on 22nd June, at the Forest of Arden Hotel and Country Club, Birmingham we will be joining the Distributor Zone for the second consecutive year.
What is Margin in Voice and Data?
Organised by Channel publishers, Comms Dealer, the event has been running for almost a decade and is designed to provide voice and data resellers with valuable insights into new evolving technologies. The event specifically focuses on commercial opportunities for Channel businesses.
Who can attend?
Qualifying delegates can attend for free. Places are offered to MD, CEO, and CTO level delegates from the following types of organisations, with revenues up to £2 million per annum.
Voice Reseller
Mobile Reseller
Data/IT Reseller
Managed Services Provider
Find out more & Register your interest to attend
With the main themes focusing on the shift to cloud communications, the connectivity solutions driving change and the value-added opportunities new business environments are creating for the ICT Channel. This year's event is set to be a great one! If you are attending, don't forget to drop by and say hello to the ProVu team!