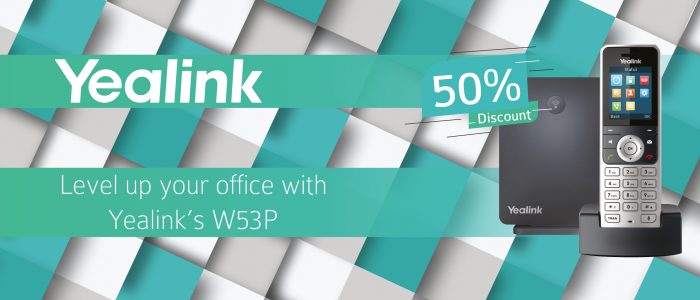 With plans on the horizon for the W52P to be discontinued, we have teamed with Yealink to offer you an exciting new promotion! Available until the 8th May, you can purchase the replacement W53P at a discounted price with Yealink's new DECT Upgrade Program.
Benefit from the W53P's advanced features for an impressive 50% off RRP! What's more there is no limit on the number of devices available so why not upgrade your portfolio now before this incredible offer ends.
Key Features include:

Supports 8 simultaneous calls per base station
Expandable up to 8 DECT cordless handsets
Compatible with the W53H and W56H additional handsets
Increase range with up to 5 DECT repeaters per base station
Support for up to 2 simultaneous calls per handset
Handset range: 50 metres indoor, 300 metres outdoor
Get in touch with our expert sales teams on 01484 840048 or email contact@provu.co.uk to find out how to level up your Yealink Portfolio today!
The ProVu Team