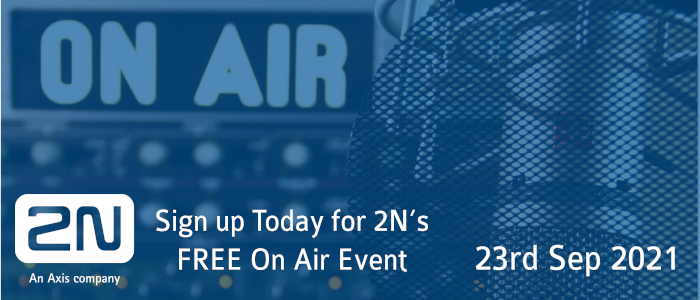 Live in…3 …2… 1! 2N On Air is back with another outstanding webinar to give you useful insights into the secrets of 2N's most successful customers. This On Air event looks at how to integrate 2N with leading systems including Genetec, Crestron and Carson. Streaming live on Thursday 23rd September from 2pm till 4pm you won't want to miss out!
What can you expect?
Introduction of complex integration with the Genetec system
Connecting to a home automation solution from Crestron
A demo of integration with Carson's mobile app
An explanation of the connection between KNX and 2N
The integration options of the My2N cloud platform
Let Your Customers Know
What's more 2N have put together a free Graphics package, especially for you to promote the event to your customers! Want your customers coming back with more projects? Invite them to 2N On Air and let the experts do the hard work. Download your FREE package below.
To speak with a member of our Sales Team please call 01484 840048 or email contact@provu.co.uk.