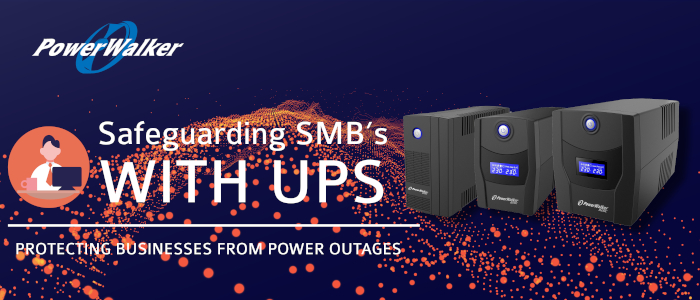 Unfortunately, unexpected power outages can happen to any business at any time. We've all been there; staff are often left with little to do and are fighting to clear out the stationery cupboard. What if we could help you to minimise the disruption? With the help of Uninterruptible Power Supplies (UPS), we can help your business stay connected even when the power is out.
Safeguard your Business with a UPS Solution
1.
Uninterrupted Power
In the event of a mains power failure, UPS devices can provide a seamless, uninterrupted power supply. This ensures that all attached business devices remain operational, preventing any potential data loss during work. Additionally, it maintains power between mains failure and generator start-up, allowing for a smooth transition between power sources. Whether you're on the phone when an outage occurs or working on an important document, a UPS will protect you from being disconnected.
2.
Stay compliant with OFCOM regulations.
As we edge closer to the 2025 PSTN switch off, service providers will be required to offer at least one backup solution to customers to enable them to access emergency services in the instance of a power outage. UPS devices can play a pivotal role in helping businesses stay compliant by providing access to publicly available telephone services (PATS) with at least 1 hour of backup power.
3.
Surge Protection
Constantly checking the incoming voltage, a UPS can detect any sudden increases or drops in power. If it senses that something harmful is happening, it will switch to an alternate power source to prevent any damage to the equipment connected to it. Once the danger has passed, the UPS will switch back to using the main power supply.
4.
Cost
Have you considered the cost of lost productivity or the expense of recreating and recovering lost data? By installing a UPS, you can ensure that workstations stay up and running, no matter what. This is particularly crucial if you're working on time-sensitive projects, handling sensitive data or information, or facing other similar scenarios.
5.
Opportunity to Backup Essential Data
By implementing a UPS solution, employees can have the opportunity to securely back up their critical data and power off their workstations and servers, thus minimising the risk of data loss.
The reality is that power outages cost businesses money.
---
Meet The Range…
VI 650 SB

VI 600 STL

Supports the Connection of 2 x 3-Pin UK power outlets

---

Up to 1 hour battery back-up**

Supports the Connection of 3 x 3-pin UK power outlets

---

Up to 2 hours battery back-up**

Supports the Connection of 4 x 3-pin UK power outlets

---

Up to 4 hours battery back-up**
Devices to Suit Businesses of All Sizes
Looking for a more enterprise-focused device? There are a wide range of UPS devices avaialble on the market, ranging from desktop devices for residential use, to rack mountable options for server rooms. Get in touch with our Team to discuss your requirements, they will be happy to help.
Discover the PowerWalker Range
Speak to a member of our expert team today to discuss your projects. We can help to ensure the devices quoted will meet your customers' requirements. Call us on 01484 840048 or email contact@provu.co.uk.
**The UPS devices we currently offer are suitable for low power devices. For connecting devices with a larger power consumption, please speak with a member of our team.