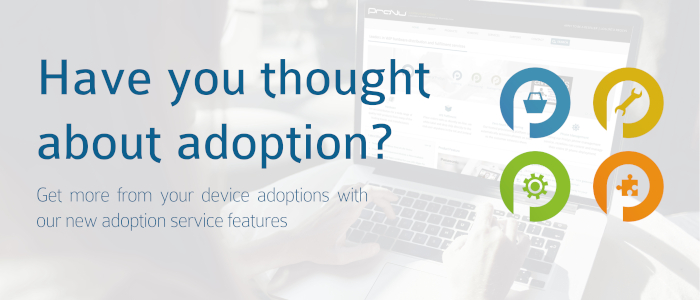 Did you know that we can adopt your devices to integrate with our online partner portal, ProSys? This service is available across all major brands for just £5 per successful adoption! Whether you've inherited a number of devices from a recent acquisition or merger, or you have deployed devices which were purchased elsewhere. We can help you bring them all together in one place making the ongoing management a simple, pain free process.
This is something we have offered for a long time, but following a couple of recent updates we wanted to share some of the key benefits you could be missing out on.
Why do it yourself when for a small fee we can do it for you!
So, What are these Great New Features?
Glad you asked! To make your new customer onboarding a breeze we have added two additional features:
The removal of devices from other suppliers' redirection accounts, saving you time and money as you don't have to go between clients and suppliers.
For devices originally supplied by ProVu, we can request permission to unlock the device(s) on your behalf (subject to original supplier agreement).
Take Control of Your Adopted Devices
Once the adoption is complete, ProSys Management customers are able to remotely view device data, edit device settings, including configuration of Busy Lamp config (BLF)* and perform tasks such as firmware upgrades anytime, anywhere. Contact us today to get started with your device adoptions.
---
Are you Making the Most of ProSys?
Enjoy everything ProSys can offer you and your business. From management to ordering and provisioning, we have something that can make your life that little bit easier.
Ordering
Get up to date pricing and stock availability in real time 24/7, as well as not having to wait for a sales team member to get back to you. Also benefit from reduced shipping charges and options to brand or white label despatch notes. We can even drop ship direct to your customers with next day delivery with no minimum order quantity.
Provisioning
Reduce the need for your engineers to manually set up devices with ProSys Provisioning. Many devices can be automatically provisioned directly from ProSys, reducing the risk of inputting errors and enabling you to get equipment to your customers faster. What's more, customers can receive the devices next day, ready to use straight out of the box.
Management
Reduce your support costs by using ProSys management tool. With access to all your devices in one place, you can see your list of deployed phones & routers as well as the ability to simply edit settings to specific devices. Which means no more site visits or complicated user walkthroughs to manually change device settings, resolving problems faster.
Integration
Automate your ordering processes by integrating your website, client portal or internal CRM with ProSys using our APIs. There's no need to manually place orders, as these can be fed through directly from your systems, ready for next day delivery. We also give you access to product information, including pricing, availability and images, giving you everything you need to keep your webstore upto date.
Get the most from ProSys
Use one or all the tools ProSys offers at your leisure for whichever part of your business you need us, get started with ProSys today!
If you have any ideas on how to improve ProSys or any ideas that will make the platform more helpful to your needs, please feel free to get in touch. Our technical team are always open to new ideas.
If you would like more information or would like to try ProSys Phone Management out for yourself please contact us on 01484 840048 or email contact@provu.co.uk
*BLF feature is only available for current models of Snom and Yealink handsets.