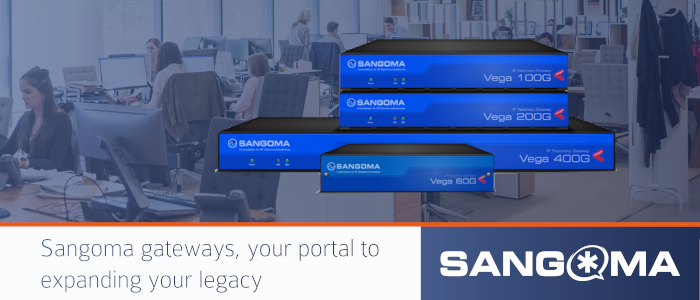 With the upcoming switch off of ISDN in 2025 and the introduction of SoGEA, a gateway seems to be more relevant than ever before. As a stand alone appliance that converts analogue to SIP, the ability to connect legacy infrastructure with modern VoIP networks saves businesses time and money which is often at the forefront of most savvy business minds.
Sangoma's Vega Gateways offers users a reliable and secure experience that can integrate into most legacy systems. With the availability of higher quality internet connectivity and the movement to more cloud based operating systems, it is more cost effective for businesses to adapt their legacy infrastructure with Gateways. Especially when those systems have been built up over years and have thousands of endpoints, it's not practical, cost effective or ecological to throw it all away. With Sangoma Gateway you can join the analogue and digital worlds together.

Need an extra helping hand? Order through us to get additional benefits!
Unsure on how to install gateways into your existing set up? Make the most of ProVu's pre-sales consultation or post-sales installation services. Alternatively learn how to install gateways and other useful Sangoma products, with Sangoma's FOC training on the Sangoma university or keep a look out for upcoming training hosted by ProVu.
| | | |
| --- | --- | --- |
| | | |
| Annual support contracts | Extended hardware warranties | Remote installation services |
Ideal businesses & Industries that will benefit most from Sangoma Gateways:
Hotels– Many hotels require telephones in guests rooms but do not wish to invest in the cabling required to bring IP connectivity to each room.
Healthcare – Many Hospitals or care homes still maintain analogue telephones for ease of use for patients or residents.
Poor IP Connectivity– In many rural areas it is not practical to acquire a broadband connection of sufficient bandwidth to carry SIP calls. Each SIP call typically requires about 100kpbs, so 10 calls takes 1 megabit of bandwidth.
Large sites – Such as factories or railways, where long line lengths make using IP impractical, expensive and possibly unreliable.
A Sangoma gateway could solve all these issues and more. Find out more about the Sangoma Gateways and how they can help to expand your legacy.
Want to know more about how you can benefit from Sangoma's latest products? Speak to one of our sales team today on 01484 840048 or email contact@provu.co.uk.