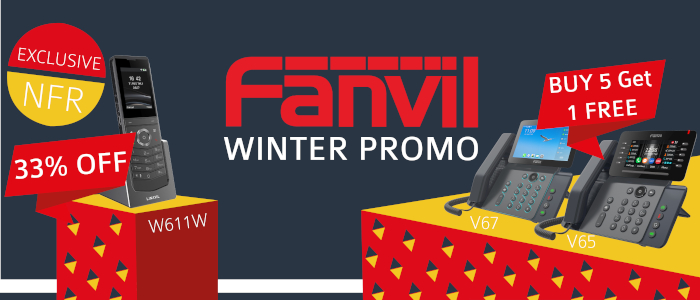 Just in time for Christmas, Fanvil's Winter offers are here! Available until the 15th January take advantage of two incredible offers on the new LINKVIL W611W portable Wi-Fi phone and the V67/V65 high end IP desk phones.
Exclusive W611W NFR & Promo

With the launch of the W611W why not try it out for yourself with our exclusive NFR* offer! Order your test device today for a massive 56% discount off RRP. Available until 31st December 2022. Speak to our expert sales team today to place your order and see for yourself how great they really are!
Happy with the product? Satisfied with your testing and are now ready to go? Why not take advantage of Fanvil's Early Bird Promotion and get a 33% discount off RRP, on all other W611W units purchased outside of the NFR offer. Available until the 15th of January. Beat the rush and place your Early Bird orders online today! Don't have access to our reseller portal? Request a login here.

---
V65 & V67 Winter Promo

This holiday season get into the festive spirit with Fanvil's winter promotion. From now until the 15th January 2023, purchase 5 of the V65 or V67 high-end IP phones and get another V65/V67 completely FREE*.

---
It's here! Fanvil Provisioning

Did you hear our latest news? We can now provision all of these handsets too**! Experience our new plug & play service across the majority of Fanvil devices. Simply get in touch today to set up your Fanvil provisioning template. Ordering has never been so slick.
Take advantage of Fanvil's incredible winter promotions and place your orders today on our online portal ProSys, using partcode V65-5+1-promo & V67-5+1-promo when checking out.
*NFR offer is available until 3st December 2022, offer is limited to one W611W per company.
*Early Bird Promotion & 5+1 offers are available until 15th January 2023 and do not have any quantity restrictions. These offers cannot be combined with the NFR offer.
**Wi-Fi phone will need to be manuallay connected to WiFi before provisioninig settings are applied.