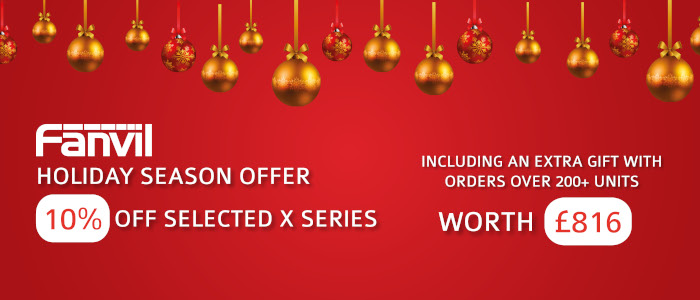 Just in time for Christmas, save 10% on selected Fanvil Devices when purchased before the 31st January!
Who says Santa only comes once a year! This Holiday season get a huge 10% off selected Fanvil X series devices. Including the advanced X7A and the business ready X5U. But hurry, this offer is only available until the 31st January.
What's more any Fanvil orders consisting of over 200 + units will also receive a FREE Fanvil Executive Demo Kit worth £816! Consisting of the X7 Deskphone, i53W SIP Door station, X210 IP Reception phone, X5U Deskphone and 2 of Fanvil's latest door intercoms, it includes the latest and greatest in Fanvil Exec Tech.

Get your orders placed with our expert sales team, on 01484 840048 or email contact@provu.co.uk to find out more!