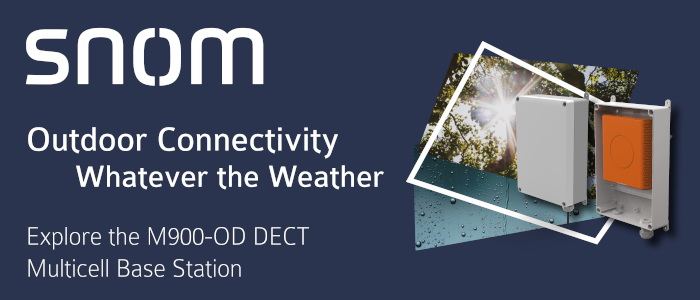 Extend your reach and improve your solution with the Snom M900-OD, the cleverly designed outdoor variant of the popular M900 DECT multi-cell base station. Get increased coverage and handset support with a DECT multi-cell solution, allowing for DECT phones to roam and connect freely between multiple base stations without dropping calls, whether that be for office buildings, warehouses, manufacturing plants or hospitals.
With a robust outdoor IP55 rated casing the M900-OD is protected from dust, water splashes and rain water. Giving you a unique, powerful solution ready for all weather conditions.

---
Explore the M900-OD
Scalable up to 1,000 base stations
Supports up to 4,000 DECT handsets
Supports calls up to 50 metres indoors and up to 300 metres outdoors
Wall mountable
---
Compatible DECT devices
The M900-OD is compatible with a range of quality handsets devices, including the M Series DECT Handset range M25, M65, M70, M80, M85 and M90.
Did you know we offer a site planning and installation service? Our team can help you ensure your DECT solutions will work exactly how you want them to. Get in touch today to discuss how we can help you deliver DECT solutions on any scale, inside or out!
Get in touch with our expert sales teams on 01484 840048 or email contact@provu.co.uk today to create your ideal solution. Whether you're looking to build a unique solution or arrange white-labelled installation, we've got your back.