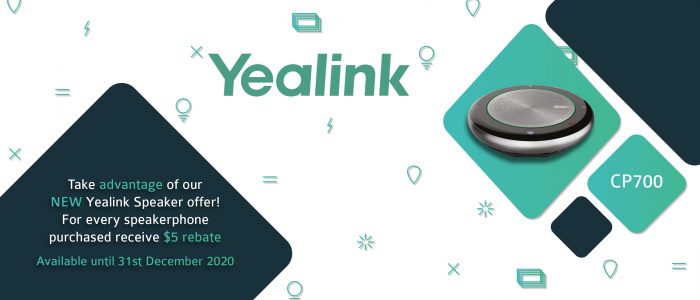 An exciting new offer from Yealink! Purchase any of Yealink's amazing speakerphones and receive a rebate of $5 per device. Available up until 31st December 2020, simply purchase 10 of any of Yealink's speakerphones to qualify, then for every speakerphone after and including the first 10 you will receive a $5 rebate per speakerphone. The qualifying purchase will reset every month, meaning resellers would need to purchase another 10 to qualify again for the rebate.
For example if a reseller purchases 12 speaker phones in one month they qualify for the rebate at 12 x $5. Equaling a rebate of $60 for the 12 speakerphones. However, if in the following month the reseller only purchases 8 speakerphones. This does not count as qualifying for the rebate therefore is not entitled to the rebate.
Yealink's speaker phone range
Explore our Yealink Speakerphone range and find your favourite!
Ther Offer is based on monthly purchase rates; numbers will be reset at the beginning of every month. Rebates will be based on number of speakerphones purchased from ProVu. Offer requires a minimum of 10 speakerphones to be purchased within one month. For every additional unit purchased after the first 10, you will earn a rebate of $5 per device. Rebate payments will be made by ProVu Communications on a quarterly basis.