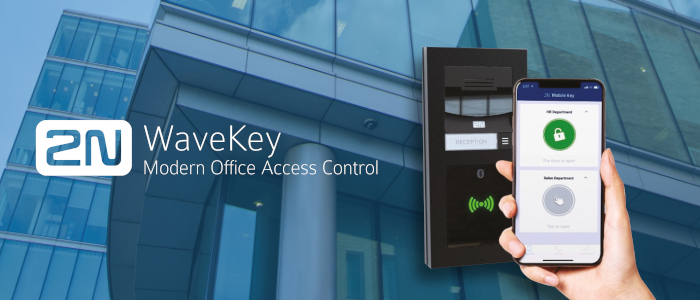 Unleash the power of mobile access control with 2N WaveKey! Rigorously tested, WaveKey stands as 2N's groundbreaking Bluetooth technology, redefining the landscape of mobile access control for buildings. Seamlessly blending user-friendliness and high-end security, 2N WaveKey completely transforms the management of access to doors and entrances. By seamlessly pairing with users' mobile devices, it offers an array of four access modes, granting convenience and flexibility in gaining access to designated areas. Experience the future of access control with 2N WaveKey!
Discover the Key Benefits of 2N WaveKey:
1.
Reliable
Tested rigorously with over 15,000 door openings and 100 different phone models from 20 brands, 2N WaveKey consistently delivers excellent performance, ensuring seamless access control for your premises.
2.
Fast
With an impressive door opening time of 0.3 seconds, WaveKey thrives in busy environments. Its unique pre-authentication system enables up to 8 mobile phones within the reader's range, ensuring lightning-fast access.
3.
Secure
No more worries about unauthorised door openings. WaveKey's adaptive algorithms and RSSi signal trend analysis distinguish approaching users from those moving away. Bluetooth communication is fully protected with AES-128 and RSA-1024 encryption keys.
4.
Cost-effective
Say goodbye to needless costs! Enjoy free mobile credentials for access control with our 2N® Mobile Key app. Assigning credentials is a breeze through the web interface, saving time and money.
Explore Four Distinct Modes of Use:
Card Mode
A convenient replacement for NFC technology, simply present your phone to the Bluetooth reader like a traditional card for quick access.
Tap-in-App Mode
Securely open doors by tapping a button in the 2N® Mobile Key app. Enable two-factor authentication for added security in high-sensitive areas.
Touch Mode
Effortlessly open doors without taking your phone out. Slightly touch the Bluetooth reader to gain access in less than 0.3 seconds.
Motion Mode
Enjoy a contactless experience by integrating with a 2N intercom with a camera. The door opens based on motion detection for a seamless passage.
How does WaveKey work?
To get started with 2N WaveKey, users can easily install the 2N® Mobile Key app on their iOS or Android phones at no cost. Before use, it's essential to pair these devices via a web browser with 2N WaveKey-enabled access readers and/or intercoms, offering multiple access methods within a single unit. For efficient access control management or when dealing with multiple intercoms, the user-friendly 2N® Access Commander software comes to the rescue, providing centralised and effortless control over permissions. With this powerful combination, 2N WaveKey empowers businesses to streamline access management and enhance security with unparalleled ease.
See the 2N Wave Key in action
Explore related products
White Label Survey and Installation available for 2N IP Access Control & IP Audio
Difficult installation or don't have the technical skill? We have you covered! We can arrange for 2N specialists to survey your site, recommend the best products and oversee the installation, all while providing onsite training. Speak to a member of our Sales Team to discuss your requirements.
Embrace the future of access control with 2N WaveKey! Upgrade your premises with the latest in mobile access technology. To learn more or get started, visit our website or reach out to us at 01484 840048 or email contact@provu.co.uk. Elevate your access control experience with 2N WaveKey today!