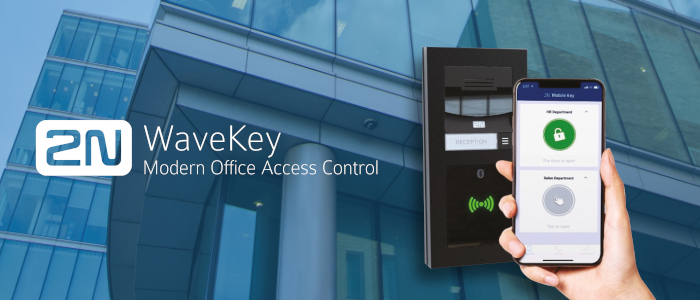 Liberate your customers from unnecessary costs with 2N's WaveKey mobile access control. This simple to deploy method could prove invaluable to your partners with the ability to remotely distribute mobile credentials in just a few clicks.
What's more, it's also a more secure option for office environments – people are less likely to share their mobile devices with others to gain access to secure areas, not to mention the unique range of secure algorithms which are able to identify whether a device is being used to gain access or if it's at rest, or simply passing by.
The 2N Wavekey is quicker and easier to set up than fobs and can be done remotely through the 2N Access Commander*. Once created, simply pair the users' mobile devices and any 2N Bluetooth Intercom module. With support for 4 different access modes:
Card mode
Tap in app mode
Touch mode
Motion mode
We've broken down the key features & benefits of this ground-breaking solution for you.
What is it?
Rigorously tested, 2N WaveKey is a unique technology that pairs users personal mobiles to the access control system of a building via a unique pairing PIN and the 2N Mobile Key app. Users can then walk to any access controlled door that they have permission to, which is set by the admin with 2N Access Commander, and enter into the door with one of 4 access modes.
1.
Card Mode
Working on both Android and iOS devices, users can present their phone to the Bluetooth reader to gain access. Just like they would with a traditional card with no need to open the phone. The Card mode is best used in installations with a high flow of people passing by such as busy office locations and turnstiles.
2.
Tap in the App Mode
Users are able to open doors by tapping a virtual button in the 2N mobile Key app. With users having to open their phone to access the app, this mode is considered to be more secure. Two-factor authentication can be added to include an additional level of security. Ideal for entrances to office buildings and secured areas as well as garages & parking barriers. Anywhere you want to keep secure.
3.
Touch Mode
Users are able to simply touch the Bluetooth reader with their hand or elbow, if they are carrying something, without the need to take their phone out of their pocket or purse. If they have authorisation to enter, the door will open. This mode is best for apartment and office buildings but less suitable if there will be lots of people constantly moving or congregating nearby the door.
4.
Motion Mode
A fully contactless way to open door. Requiring a camera based intercom which will trigger the authentication process when it detects movement. Camera behaviour setup will be required to make use of this mode – When, how and what you want it to react to. Making passage through doors smooth and effortless. While the convenience of this mode is fantastic, it is not advisable to deploy this mode in busy areas as there is a risk of the door being opened unintentionally by a third party.
Who can set permissions?
The 2N Access Commander Admin can set up accounts so that receptionists, security guards or administrators can generate the unique pairing PIN for staff and guests, as well as set the appropriate permissions for the users. All of which can be done in under 30 seconds.
How does WaveKey work?
Making use of the users' mobile phone Bluetooth functionality, 2N WaveKey allows users to link to a buildings access control. Once the connected device is in range of a listening 2N intercom that has a Bluetooth module, users can make use of 4 different modes to enter a door, with varying levels of convenience of use and the associated level of security. Users are free to choose the best mode for each door as well as multiple modes for the same door for users to choose their preferred method. Users can rest assured that the smart algorithms used for the 2N WaveKey identify when the pair device that is being used for access is at rest, moving to, past or away from the area they are wanting to access to ensure full security of their restricted areas.
Explore related products