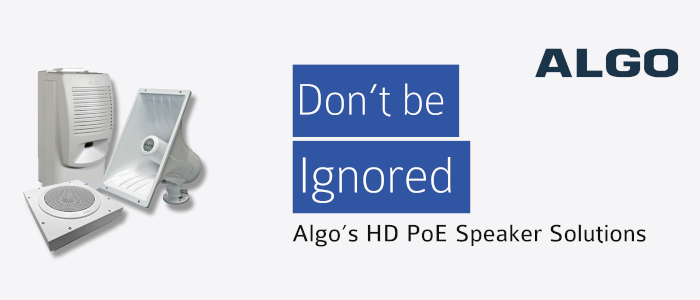 Looking for an IP PoE speaker solution? Algo has got you covered with the very best in wideband HD audio PoE speakers. Each speaker can be used in multiple spaces with varying applications, plus with voice paging and emergency audio/visual alerting important messages will be hard to ignore. Compatible with most hosted and cloud based VoIP systems, explore Algo's great range of speaker solutions to find the best for your needs.
What if you already have existing analogue speakers? Save yourself time and money by integrating existing equipment with Algo's IP paging adaptor. Whether you want to make use of what you already have or start from scratch, together with Algo we can help you find the right solution.
Public address (PA) PoE speakers.
Secure SIP using TLS and SRTP.
Multicast scalable.
Wideband HD voice for high intelligibility speech.
Dynamic volume control responsive to ambient noise levels.
Talkback capable speakers.
Customise WAV files for emergency notification / alerting and telephone loud ringing.
Configuration via user friendly web interface or auto-provisioning.
IEEE 802.3af Class 0, 48V 12.95W and IEEE 802.3at Class 0, 48V 25.5W.
UL/CSA, FCC and CE certified.
Which Algo IP Speaker Do I Need?

Space

Classroom, Lunch/Break Room, Office, Kitchen

Application

Voice Paging/Public Address (PA)
Emergency Notification
Loud Ringing

Algo Solution

Space

Offices, Common Areas, Cafeteria, Library, Retail, Restaurant, Healthcare, Transport Terminals (airport, bus & train stations)

Application

Voice Paging/Public Address (PA)
Emergency Notification
Loud Ringing

Algo Solution
Space

Any space requiring music

Application

Algo Solution

Space

School Bells, Workplace Shift Change / Breaks, Hospital Visiting Hours, Retail Closing Announcement / Specials, etc.

Application

Bell / Tone / Announcement Scheduling

Algo Solution
Space

Gymnasium, Warehouse, Factory / Plant, Utility, Machine Shop, Garage

Application

Voice Paging/Public Address (PA)
Emergency Notification
Loud Ringing

Algo Solution
Space

Outdoors: Yard / Playground, Car park, Farm, Bus & Train Station

Application

Voice Paging/Public Address (PA)
Emergency Notification
Loud Ringing

Algo Solution
What's more is you can benefit from ProVu's expert technical sales team who can help you to build your ideal all-in-one solution or advise on the best ways to integrate Algo devices into existing setups. To discuss your requirements with a member of the ProVu Team please call 01484 840048 or email contact@provu.co.uk