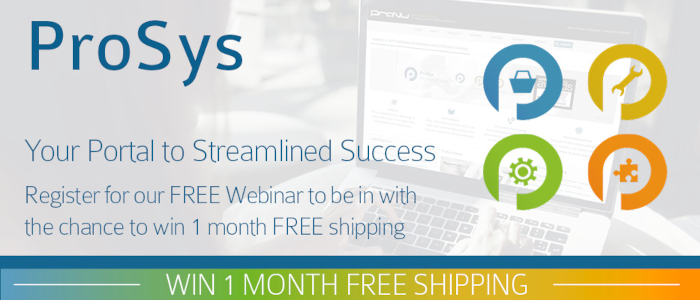 We're thrilled to extend a personal invitation just for you to our upcoming webinar! It's happening on 3rd of October 2023, and we can hardly contain our excitement. Why? Because we've been busy fine-tuning our in-house customer portal, ProSys. We've added some fantastic features that we're eager to share with you. These updates have been driven by user requests, and we're convinced that you'll find them invaluable in streamlining your ordering process. Join us, and let's explore how you can make the most out of ProSys together.
Here are five great reasons why you don't want to miss this webinar:
1.
Discover the Four Pillars of ProSys:
We'll take a deep dive into ProSys' heart and soul—the Four Pillars: Ordering, Provisioning, Integration, and Management. You'll see how these pillars work together seamlessly to simplify device deployment, management and bring tremendous value to your operations.
2.
Industry-Standard Portal Comparison:
Ever wondered how ProSys stacks up against the industry's best? We've got you covered. You'll get a firsthand look at why ProSys is the ultimate solution for making your ordering and provisioning processes a breeze. Discover how ProSys compares to other top portals and see how it can save you time and resources.
3.
Guided Tour to Prosys Efficiency:
We want to show you all the goodies ProSys has to offer, from its user-friendly interface to its knack for streamlining your operations. Get ready to discover how ProSys can help you manage your devices like a pro, boost customer satisfaction, save you time and give your bottom line a welcome boost.
4.
Roadmap Preview:
We're pulling back the curtain on our ProSys roadmap. Brace yourself for a sneak peek at the exciting features and updates that are coming your way. Designed to take your device management to a whole new level.
5.
Share Your Feedback and Win:
Your opinion truly matters to us! Learn how you can actively shape the future of ProSys by sharing your feedback and feature requests. Plus, by joining us for the webinar, you'll be in the running for our special prize draw, with a chance to win free shipping for an entire month*!
---
Don't have a ProSys account yet but want to take full advantage of its features, fret not!
Becoming a ProSys reseller is a breeze. Just click the link below to fill out a straightforward ProSys account request form. While we're setting up and approving your ProSys account, you can still sign up for the webinar and get a taste of all the exciting features that await you.
We can't wait to have you join us on 3rd of October 2023 for what promises to be an eye-opening journey through ProSys. See you there!
*Free delivery applies to UK mainland only. Minimum order value of £500 (exc VAT) per order, free delivery period will run from 4th October 2023 to 4th November 2023. Winner will be notified after the prizedraw which will take place after the webinar.