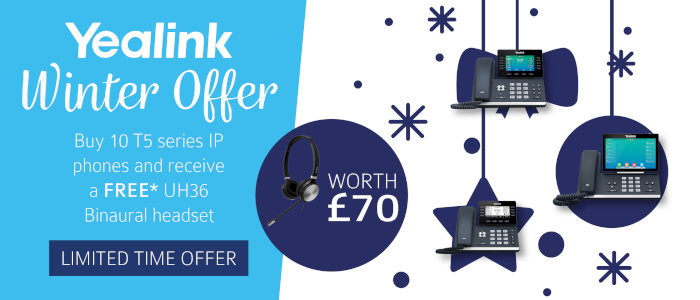 Kicking off the festive season, we have teamed up with Yealink to bring you an exciting Christmas promotion. Purchase any 10 devices from the Yealink T5 series and receive a FREE* UH36 Binaural headset worth over £70! Take advantage of this incredible offer from the 1st December until the 31st December.
Explore our range of Yealink T5 series and find the best for you!
Not yet registered?
Sign up today to join our Yealink Partner Program and enjoy added benefits like rebates and special project support pricing!
Get in touch with our expert sales teams on 01484 840048 or email contact@provu.co.uk to find out how to level up your Yealink Portfolio today!
Offer Terms & Conditions
1. Orders are to be placed in sets of 10 to claim free UH36 headset. E.g 1 order of 10 will be eligible, however 5 orders of 2 will not be eligible.
2. Offer is available from the 1st December until 31st December
3. This offer has no limited to the number of times it may be used as long as it meets the requirements. e.g 1 order of 50 phones can claim 5 free UH36 headsets
4. Products can be sent to different address if resellers wish you keep the Headsets, however shipping charges will apply to each address