Unlock the benefits of IP technology
By the end of 2025, BT will have switched entirely to VoIP technology – migrating your customer's intercom system from old analogue lines to a new IP infrastructure should be your number one priority.
We all know the switch-off doesn't need to be feared – IP technology will open up a whole world of convenience and security for your customers. The first step in changing? Choose the right access control provider!
2N invented the world's first IP intercom in 2008 – and they've kept setting industry standards for IP technology ever since: developing a range of versatile, premium IP devices such as luxury display intercoms, robust anti-vandal intercoms, and sleek single-button intercoms for residential homes.
---
Why choose 2N's IP intercom systems?

Fully VoIP Compatible
Forget proprietary solutions. All 2N intercoms and answering units support VoIP communication via the standardised SIP protocol. This makes the devices easy to register as an extension to any IP PBX or IP service provider – just like an IP phone.
Flexible and Integrated
Create a fully integrated access solution – 2N products are built on open protocols, so they're easily integrated with all leading cloud/IP PBX platforms and can also be connected to VMS and other security platforms.
Modern and Convenient
2N's VoIP-based door entry solutions offer advanced features that improve security and convenience – including HD video calling, remote access control, integration with mobile apps, and remote site management via a cloud platform – that last one will save you time and money!
Scalable
If you want to expand your new 2N IP intercom system in the future – it couldn't be easier! Adding new devices, upgrading existing ones to add new features – all of this is made possible thanks to the power of 2N's IP technology.
Retrofit Ready
Working with listed buildings? 2N's solutions are adaptable and ready to retrofit with listed buildings and those hard-to-reach areas where installing cat5 cabling could be troublesome. With 2N's 2-Wire Converter, you can simply connect 2N's IP products to the existing analogue cabling, allowing you to provide your customers with high-quality video, crystal-clear audio and many more advanced features.
Three ways to convert to IP
Whether your customers are looking to:
| | |
| --- | --- |
| 1. | Install new cabling |
| 2. | Convert products to work alongside existing analogue cabling |
| 3. | Remotely manage and connect systems with 2N's Cloud-based service, the My2N Management Platform |
2N offers a range of possibilities for integrating IP access control with your customer's equipment.
Choose Market-Leading IP devices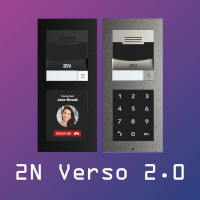 2N IP Verso 2.0 – Dubbed the Unicorn of intercoms, this powerful upgrade to a best-selling modular intercom really shows off the best of what IP technology can offer your projects.
A wide-angle full HD camera supporting WDR
Multi-access technology support (RFID, PIN, Fingerprint, Mobile access powered by WaveKey, and QR codes)
Modular design: build the exact intercom you need using up to 20 modules
---
2N Clip – Perfect for midrange projects, this 4'' answering unit puts the power of IP in every home. Offering the same quality as you'd expect from all 2N devices – including reliable IP video communication – at an affordable price point.
---
Switch Off With 2N

Get in touch today to discuss how you can maximise the opportunities the switch off can bring with 2N and ProVu. With a range of services designed to ease the installation and support of these devices, we can help ensure a smooth transition for you and your partners.