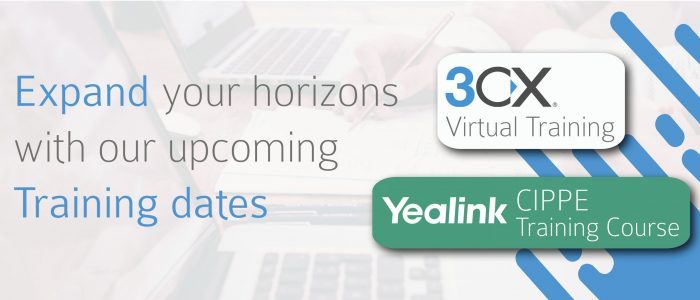 Expand your horizons with our FREE upcoming training events. Upskill your team with our free accredited courses to offer more to your customers and improve your knowledge on the products you're offering and supporting.
3CX Intermediate Training – 1st March

Suitable for those looking to advance to the next level with 3CX, our intermediate training is open to all 3CX partners. Designed to equip you with the knowledge to take the intermediate certification exam*.
The 3CX Intermediate course contents will include more advanced topics such as time-based scheduling and advanced installation options.
---
3CX Basic Training – 12th & 13th April

Already selling £1000 worth of 3CX a year or looking to get started? Why not take part in the FREE basic 3CX course and become a Bronze 3CX partner, giving you increased margin up to 15%. Make sure to register as a 3CX partner to get the full benefits.
Becoming a certified partner gives you access to improved technical know-how and support, increased sales margins and access to marketing resources. As well as discounts on 3CX products.
---

---
Yealink Senior CIPPE Course – 21st March

Following the success of our junior CIPPE virtual training course, why not take your knowledge to the next level with our Senior Engineer training course*. Explore the advanced features of the Yealink phone range while improving the overall technical expertise of your team.
Sharpen your professional skills and enhance your expertise at no cost by becoming an official Yealink Certified Engineer with ProVu.
---
Yealink Junior CIPPE Course – 18th April

Become a certified Yealink IP Phone Engineer with ProVu! Join our upcoming Yealink Junior CIPPE training course. Start your Yealink journey with this entry-level course and learn all about Yealink's phone range, including DECT and conferencing devices, as well as Yealink's services. Empowering you and your team to be better equipped to support your customers.
Hosted by two of our experienced technical support engineers, who will be able to discuss any questions you may have during the course, you will be in good hands.
Add a new feather to your hat today and become an official Yealink Certified Engineer with ProVu.
---
Don't see the course for you? Register your interest!
Register your interest in future courses with brands like 2N, Sangoma and Algo which will be subject to on-demand scheduling.
*Attendees are required to sit the relevant exam in order to become a certified partner, these can be accessed via the 3CX portal. To become an intermediate partner you will first need to complete the basic training course.
*In order to sit the Yealink Senior CIPPE certification, you will first need to complete the junior course.