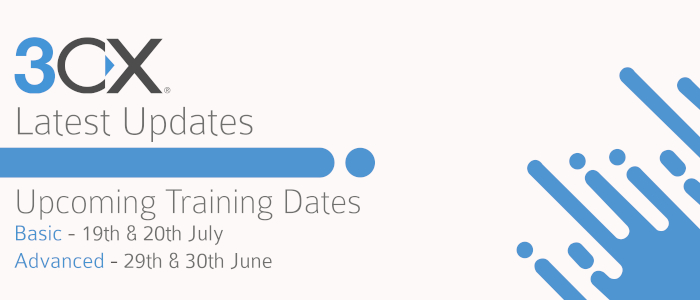 Being at the forefront of PBX systems and integrated communications, 3CX have had to innovate and grow to meet the demands of users as well as the ever-changing technology landscape. With web, desktop and mobile clients it is now easier than ever to connect supported devices to an all-in-one communication system.
Some of the latest updates to 3CX
In the most recent version 18 update, 3CX have improved on the system with some quality-of-life updates as well as some brand new features.
IOS App Official Release: Fast Chat ResponseFast Chat Response allows users to respond quickly to chat messages without unlocking their devices. By long pressing the chat notification and then being prompted to either 'reply' or 'mark as read'.

What's more, in accordance with the Ray Baum Act & Kari's Law devices are required to be able to direct dial local emergency numbers without having to add a prefix or access code. The 3CX app can recognise emergency numbers and "offloads" the call to the native GSM dialer instead.
Stream 3CX Video Conferences on YoutubeVersion 18 of 3CX has been updated to integrate with YouTube. Allowing users to present video conferences LIVE via YouTube as well as stream public YouTube content directly within a meeting. This feature requires an enterprise edition license.
Improved filtering on 3CX VC WordPress pluginThe 3CX Video Conference WordPress plugin has been updated to make publish 3CX webinar and registering customers easier. Allowing users to filter by published extension numbers, Keyword in webinar subject as well as set number of days in the future.

Based on the 3CX VC Rest API, users can customise the experience to fit individual needs and requirements.
New Call Flow DesignerAudio files that are generated through text to speech are now cached in the 3CX server. Meaning that users will save money as well as response time when playing the same text over and over. 3CX first checks for local WAV files for the same voice & text. If available the WAV file will be played, otherwise the text to speech operation will be triggered, adding the result to the cache.
Easily Parse CSV TextWith a new CSV Parser, users can easily convert CSV files into a table. Giving users an easier way to collect information like numbers or values from specific rows and columns. Making callflow validation, such as user ID and PIN numbers, that much quicker if the information is in a CSV file. What's more, this can all be done without any C# scripting.
Sign up Today!
3CX Basic Training
Start your 3CX journey with ProVu. Registration is now open for our next Basic Training Course. Whether you're new to 3CX or simply looking to brush up on your knowledge; this free to attend virtual course is a great place to start. Join us to learn about the basic concepts of getting 3CX up and running and develop techniques for basic troubleshooting.
3CX Advanced Training
Ideal for those already familiar with 3CX. The advanced certification consists of seven modules which cover the more advanced settings of 3CX including Bridges, inbound and outbound routing, security and anti-fraud.
Get in touch today to discover how you can upgrade your customers' systems with 3CX. Call 01484 840048 or email contact@provu.co.uk.
*Attendees are required to sit the relevant exam in order to become a certified partner, these can be accessed via the 3CX portal. To become an intermediate partner you will first need to complete the basic training course.
**The 3CX Partner Program is based on sales figures and certification levels, to find out more about the tiering system visit: https://www.3cx.com/partners/channel-partner-program/