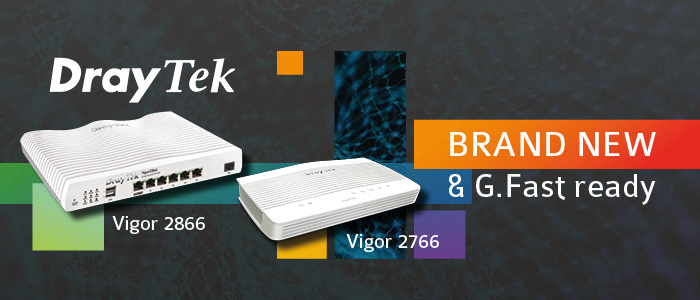 Introducing the latest routers from DrayTek!Introducing the latest routers from DrayTek! The Vigor 2766 & 2866 Series come G.Fast ready making it easy to adapt to the newest technology ahead of the switch over. Get faster, more adaptable broadband connection than ever before with the latest from DrayTek!
Vigor 2766 Series
A small compact G.Fast ready router perfect for small offices or home working. Featuring DrayTek's advanced firewall and content filtering, as well as 2 VPN tunnels for fast and secure home working. The Vigor 2766 is also available as an 'ac' model.
Vigor 2866 Series
A more robust and larger model, the Vigor 2866 offers users a G.Fast ready router with 5+1 Gigabit LAN ports as well as 32 LAN-to-LAN VPN Tunnels. Ideal for home offices, small businesss and satellite offices the Vigor 2866 provides a reliable, flexible and secure network solution. Also available as 'Lac' and 'ac' models.
What is G.Fast?
If you didn't already know, G.Fast is the latest and fastest broadband service currently available. G.Fast improves on the current FTTC meaning end users can achieve speeds of up to four times faster than traditional FTTC broadband.
Still not convinced?
Draytek's newest routers are backwards compatible, making them suitable for use with ADSL/VDSL connections as well as the new G.Fast connections. Even if your customers aren't yet using G.Fast, why not future proof your solutions and avoid the need for further investment in the future.
We currently have good stock levels available of DrayTek's latest and greatest and where there are shortages, our team are on hand to recommend the best alternatives to ensure your business continuity.
Claim your exclusive discount
Available while stock lasts, save up to 15% on DrayTek's Vigor AP 1000C models. But hurry, this exclusive offer won't last for ever!
Explore our range of DrayTek products or contact a member of our team to help build your ideal DrayTek solution, please call 01484 840048 or email contact@provu.co.uk