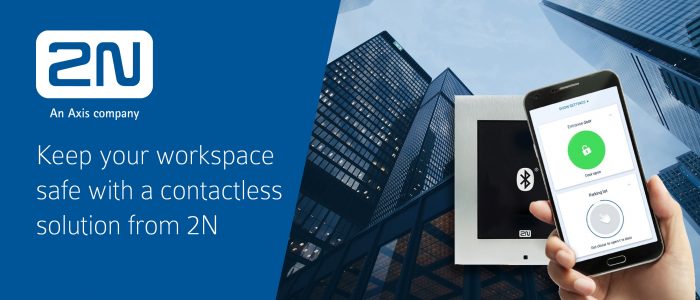 Explore how 2N's Contactless solutions can help to keep your business and customers safe as the world begins to return to normality.
As the world begins to return to some form of normality, we are beginning to see people become a little more careful when it comes to interacting with businesses and products. To combat this social wariness, 2N offers the perfect products to take additional steps to keep not only your customers safe but also your staff. From the New 2N Indoor View touchscreen answering unit, to the zero-touch Bluetooth Verso Module, 2N has plenty of extraordinary devices to make your workspace safe and secure.
Video Screening
| | |
| --- | --- |
| A compact and sleek design for any modern space, the Indoor View is perfect for screening visitors before entering a building. With its impressive 7" colour touchscreen allowing for wide angle video. As an added bonus, the Indoor touch is usable with PPE gloves giving users an added layer of protection. | |
Security
| | |
| --- | --- |
| Never worry about your intercom again with the IP Force. With a protection rating of IP69K 2N's IP Force intercom can be exposed to even the harshest environments and cleaning products. With a choice of visual signalling models as well as a HD camera the IP Force can cater to needs of people with hearing difficulties or impaired orientation abilities. | |
Contactless Entry
| | |
| --- | --- |
| Minimise contact in high traffic areas by turning the IP Verso and Access units into a contactless access control solution. Simply add a Bluetooth module to enable staff to enter a building through their smart phones or tablets with the 2N® Mobile Key application. With the ability to monitor people who enter and exit buildings users may even set up a Track & Trace system for their workspace. | |
Explore how 2N can improve your workspace with the new 2N Virtual Experience
If you are interested in more of 2N's products as well as seeing them in situ. Check out 2N's Virtual Experience and explore 2N products in a 3D space.